After weeks of speculation about his ownership over Caterham, Malaysian businessman Tony Fernandes has confirmed he has sold the Formula One team to a Swiss and Middle Eastern consortium.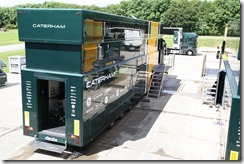 Without a point from the first half of the F1 season, it remains to be seen whether having new owners will be enough to convince Betfair fans Caterham will be able to come away from 2014 with some points to their name.
The deal ends Fernandes' five years in charge of the team, from making their debut in 2009 under the 'Lotus' moniker to their recent struggles at the back of the grid. As well as a new set of owners, a number of expected changes have already been made as the new bosses look to salvage something out of another difficult season for the team.
While the team will continue to bear the Caterham name and base themselves in Leafield, Cyril Abiteboul has officially left his role as Team Principle with Colin Kolles appearing to be set to share the role alongside former driver Christijan Albers. Kolles has been acting as an advisor to the new owners and will now take over some of the duties left by the departing Abiteboul, bringing with him plenty of experience after stints as Team Principle with Jordan, Spyker, Force India, HRT and Midland.
While Kolles is expected to report directly to the new owners, former Spyker and Midland driver Albers will take care of the day-to-day duties of running the team. But it's a good job Albers will have such an experienced Team Principle to work with. At just 35-years old, the Dutchman has only recently hung up his driving gloves and helmet but has been tasked with helping Caterham finish this season in that all-important 10th spot in the Constructors' Championship.
As rivals Marussia continue to outshine Caterham this season, the new management team will be under no illusions that their hopes of achieving their target lies with producing a car that drivers Kamui Kobayashi and Marcus Ericsson can begin picking up points with. With such a significant difference in prize money available for finishing 10th rather than 11th, Caterham can ill afford to allow Marussia further pull away from them by ending 2014 above them.
On the evidence of the first half of the year, Betfair fans will rightly be waiting to see some evidence of improvement before considering backing Caterham to finish anywhere other than bottom of the pile for the foreseeable future.
Image: Caterham F1 Team