In 1950, Silverstone hosted the first race of the newly founded Formula 1™ World Championship and to this day proudly proclaims itself the "Home of British Motor Racing". Although the overall speed of the circuit was reduced in the 1990s, it remains famous for its spectacular curve combinations.
British Grand Prix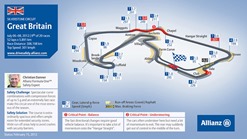 Circuit: Silverstone Formula 1 Circuit
Number of Laps: 52
Circuit Length: 5.901 km
Race Distance:  306.747 km
Lap Record: 1:30.874 – 2010 Fernando Alonso
2011 Stats
Pole Position: Mark Webber
Top 3 Finishers:
1. Fernando Alonso
2. Sebastian Vettel
3. Mark Webber
Fernando Alonso got big cheers at Silverstone the morning of the race as he threw a 1951 Ferrari 375 F1 car around – the car that won Ferrari's first ever F1 race at this very circuit 60 years previously. The Spaniard spent one lap waving to the crowd and the other giving it beans, drifting it around the circuit's high speed bends. One or two veteran members of the media looked teary-eyed in appreciation.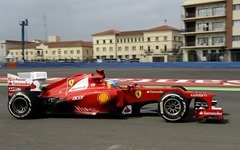 He followed it up with his first – and, it would prove, only – win in 2011, on this important anniversary for the Tifosi. For me, though, the biggest story of the day was Mark Webber who was instructed towards the end of the race not to challenge Sebastian Vettel for second place. He ignored team boss Christian Horner's repeated orders and pushed to the last.
Webber has a curious (and, in many ways admirable) psyche. I believe he is a man driven by conflict. He needs a dark force to rally against. If one doesn't exist, he will go out of his way to create one. He thrives off being the underdog. On the face of it, this suggests he makes his life unnecessarily difficult, but it's what makes him perform at his best. They love him in Milton Keynes, at the Red Bull Racing factory.
They like that he's so approachable, and that the guys on the shop floor can call him up and go for bike rides. Mark has a close bond with them, too. But his perception – rightly or wrongly – that he's the 'number two' in the eyes of Red Bull's brass has caused him to rebel. I was thrilled to learn that Mark raced to the finish. Good on him. That's what you want from a racing driver. And Mark and Fernando are proper racers both.
Source: Formula1.com, GP Week, Wikipedia, ESPN F1, Ferrari
Find us on Facebook and Twitter for all the latest updates for the F1 2012 season