The 2011 Canadian Grand Prix had all the ingredients to be a long and eventful race, but few were expecting the drama that unfolded with a start under a safety car, a red flag and a two hour wait for the race to be restarted.
Canadian Grand Prix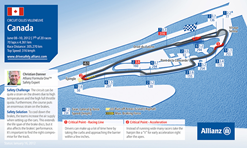 Circuit: Circuit Gilles-Villeneuve
Number of Laps: 70
Circuit Length: 4.361 km
Race Distance: 305.27 km
Lap Record: 1:13.662 – Rubens Barrichelo (2004)
2011 Stats
Pole Position: Sebastian Vettel
Top 3 Finishers:
1. Jenson Button
2. Sebastian Vettel
3. Mark Webber
By lap 25 the track was undrivable and the race director had no choice but to stop the race. After almost two hours wait the race was restarted behind the safety car, a decision that at the time made no sense to me and was also questioned by many drivers as we could hear over the team radios.
After little over four hours ((4:04.537) the Canadian GP came to an end and became officially the longest Grand Prix in Formula 1 history. It was a tough afternoon for drivers, teams and TV commentators as well.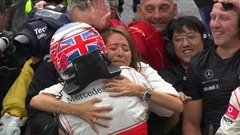 One must say that Jenson Button's drive was fantastic that day, with two investigations and drive-throughs he was dead last at one point. All things considered this was turning out to be a nightmare Sunday for McLaren after Lewis Hamilton had collided with Jenson, which took Lewis out of the race. But things were about to change real fast.
Jenson's pace on track was incredible and he soon started to make up positions. Amazingly, the Briton came from last place to leading the pack on the last lap after Vettel broke under pressure and made his first mistake of the year by spinning under the wet conditions. Button held his nerve on the slippery conditions and won the Canadian GP of 2011, the first time since Brazil 2003 that a driver had won a race and only led one lap of the whole afternoon.
After the race Button hailed his best drive ever, but it was not a faultless one. He must have been very happy to learn that the stewards decided not to penalise him for the Lewis and Alonso incidents which took both drivers out of the race.
Going into the race there had already been a lot of talk about Lewis' driving standards. Emerson Fittipaldi (who was stewarding in Canada) weighed in to say that Hamilton had been too aggressive in Monaco. Now I don't disagree with that, but he went on to say Ayrton Senna wouldn't have taken such risks – er, yeah he would! Go talk to Martin Brundle about that. Ayrton would put his car in a position where contact was inevitable and left it to the other guy to decide if he wanted an accident or not.
Senna is clearly an inspiration to Hamilton, as a driver and as a man. Senna believed he was an outsider battling the dark forces of the establishment. Hamilton's post-Monaco comments hinted that that is his mindset also.
Sources: Wikipedia.com, Formula1.com, GPWeek.com, McLaren.com, DriveSafely.Allianz.com