The Marina Bay Street Circuit (otherwise known as the Singapore GP Street Circuit) is a street circuit around Singapore's Marina Bay and is the venue for the Singapore Grand Prix. The track is 5.073 km long in a harbourside location similar in style to the Monaco Grand Prix and the Valencia Street Circuit in Valencia.
Singapore Grand Prix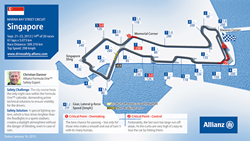 Circuit: Marina Bay Street Circuit
Number of Laps: 61
Circuit Length: 5.073 km
Race Distance:  309.087 km
Lap Record: 1:45.599 – 2008 Kimi Raikkonen
2011 Stats
Pole Position: Sebastian Vettel
Top 3 Finishers:
1. Sebastian Vettel
2. Jenson Button
3. Mark Webber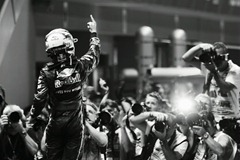 Sebastian Vettel claimed his ninth win of the year and edged to within a single point of becoming the sport's youngest back-to-back champion.
It was a demonstration of brilliance, his finest and most crushing performance yet and a second-a-lap quicker than anyone else in clean air. He led uninterrupted from lights to flag and only missed out on his first 'grand slam' (adding fastest lap to the achievement of pole, win and leading every lap) in the closing minutes as Jenson Button turned the wick up and went purple on the timing monitors.
Drama was to come post-race. I can only assume that Felipe Massa, looking at his watch and drenched in sweat, thought he'd just stepped out of a rough nightclub. In the interview pen, Felipe grabbed Lewis Hamilton violently by the shoulder, and gave him a sarcastic thumbs up. The pair had had an on track rumble when Lewis hit him from behind, puncturing the Ferrari's right rear tyre. Lewis served a drive-through, but managed to rescue his race and recover to fifth, which is more than Massa was able to do, coming home ninth. "Don't touch me man, don't touch me!" warned Lewis and returned to his interview with Dutch TV. He thought about it for a minute and then walked off, clearly angry and wanting to contain his ire.
Critics will point to Lewis's many erratic performances this year, but keeping cool out of the car this time showed he's
learning self-control.
Source: Formula1.com, GP Week, Wikipedia, DriveSafely.Allianz.com, Red Bull Content Pool
Find us on Facebook and Twitter for all the latest updates for the F1 2012 season