Etihad Airways are inviting Formula 1 racing fans from around the world to experience the iconic Yas Marina circuit with the release of their online interactive race course.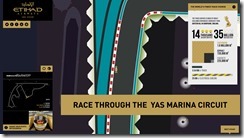 The interactive circuit features fantastic facts about the official home of the 2013 Formula 1 Etihad Airways Abu Dhabi Grand Prix which is celebrating its fifth anniversary this year. Visitors will be greeted with images, videos and statistics about the circuit over 14 points as they complete a full lap around the animated track
Some of the features included in the interactive race course include:

· Images from the circuit including the pits, grandstands and previous winners

· Facts about the circuit such as the technology and manpower behind the construction

· Statistics about key elements that can make the difference between winning and losing at the Yas Marina circuit

· Information on Abu Dhabi's most popular landmarks

· Details on this year's free after-race concerts, including Jay Z, Muse and Depeche Mode
Additional features include the ability to switch between a day and night version of the circuit as well as allowing visitors to "jump into the driver's seat" by uploading an image of themselves which is displayed as they race and can also be shared on Facebook.
To race through Yas Marina, one of the most advanced motor racing tracks in the world, head over to http://resources.etihadairways.com/f1-abu-dhabi-grand-prix/.