At speeds close to 220 mph, Formula One circuit-racing cars put on a must see show at Grand Prix races. With die hard fans and gorgeous race locations, these are the five best venues to watch a Formula One race.
May 24-27 – Monaco Grand Prix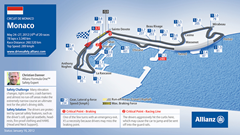 This French Riviera Formula One race consists of 78 laps through the streets of Monaco. Covering only 160 instead of the standard 190 miles, this short circuit race moves in and out of the city, passing by the Casino de Monte-Carlo and yachts docked in the harbour. With the events beginning on Thursday instead of Friday, attendees are given an extra day to experience Monaco in all its beauty. Race week transforms what's normally an idyllic playground of the rich and famous into a hive of activity with Formula 1 race cars replacing the Hyundai Accent. The atmosphere, like the noise, is electric! The best place to stay when attending this event is Hotel de Paris Monte-Carlo with its majestic, Belle Epoque-style rooms and highly acclaimed Le Louis XV – Alain Ducasse restaurant. Be sure to make reservations well in advance, as it is generally fully booked up to a year prior to the Grand Prix. And unless you've recently floated your company on the stock market and became a millionaire, the race-front apartments are totally out of your reach.
June 8-10 – Canada Grand Prix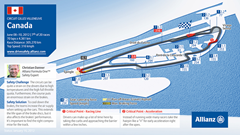 Drivers fly around the Circuit Gilles Villeneuve, located on Notre-Dame island in Montreal, 70 times. A great view of the track's intense hairpin can be seen from popular grandstands at Turn 10. This event is a three-day festival on Montreal's Crescent Street, offering street parties, Formula One exhibitions, and of course the race itself. The best place to stay when attending this event is the luxurious Ritz-Carlton Montreal, a city staple and home to Maison Boulud restaurant – owned by celebrity chef Daniel Boulud.
September 7-9 – Italian Grand Prix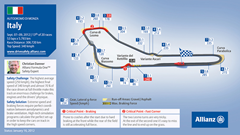 Italy's Formula One race is held in Monza, located 30 minutes from Milan. Known as "La Pista Magica" (the magic track) to Italians, the cars circle the track 53 times, topping out at 220 mph. This track is also well-known for many great victories and horrible accidents. Some of the grandstand views are limited because of the line of trees surrounding the track; however, portions of the track that are otherwise off limits are accessible with general admission tickets. The best place to stay when attending this event is the Armani Hotel Milano with its luxurious, calming rooms.
September 21-23 – Singapore Grand Prix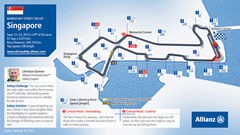 Marina Bay Street Circuit is another Formula One street course, but this one occurs at night. Drivers pass the harbour 61 times over an illuminated course. Crossing over two bridges, the pit complex for this 3.15-mile track is located by the Singapore Flyer Ferris wheel. The best place to stay when attending this event is the Mandarin Oriental Singapore, which rests in the centre of the Grand Prix track. This five-star hotel offers incredible views of the race from anywhere inside the hotel, and it offers an outdoor pool and spa for magnificent relaxation.
November 16-18 – United States Grand Prix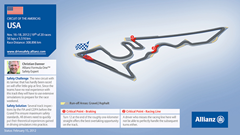 The construction of 900-acre Circuit of The Americas facility in Austin was recently completed and approved by FIA to host the first Formula Race held in the US since 2007. Drawing from other tracks, such as Silverstone in the UK and Hockenheim in Germany, this 20 turn 3.4 mile track also offers steep elevation changes and an inclined run that leads into a tight hairpin turn. The best place to stay when attending this event is the Four Seasons Hotel Austin. It is a short distance from the Circuit of the Americas facility. Its Texas-style design and decor, as well as its four-star spa makes this hotel an excellent place to unwind after a long day at the track.
Info: Kristine Vicencio, Images: drivesafely.allianz.com
Find us on Facebook and Twitter for all the latest updates for the F1 2012 season