McLaren needs to react now, if they want to maintain their chances for winning the championship open.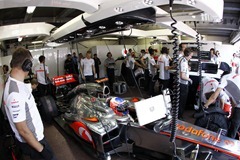 With such tight competition no team can afford to make too many mistakes, but at McLaren they seem to pile up quite fast. If nothing changes at Woking, then the team might waste their advantage of having what seems to be the best F1 car in 2012.
Jenson Button scored the first victory of the season in Australia while his team-mate started from pole position and came third. But that strong result seems to have happened so long ago because since then  things have only gone downhill for the McLaren F1 Team.
Strategy and pit problems have prevented the drivers from exploiting the true potential of their cars. Lewis Hamilton has put his MP4-27 on pole three times and in second place two times. However his strong performance and consistency were not copied by the mechanics and team officials who seemed determined to "sabotage" the driver's performance with every possibility.
The errors that before were committed by an over aggressive Lewis Hamilton now come from a different source. A bad pit stop in China ruined Lewis' chances to win the Chinese Grand Prix. In Bahrain two consecutive pit-stop errors pushed Lewis back in 8th position in a race where he had everything set up for a win. These problems caused a little storm within the team and some procedures and mechanics were changed in an attempt to prevent such mistakes in the future.
But as we saw in Spain, all of this change was still not enough. Another internal error in the form of a badly placed wheel gun ruined another race for Lewis. In the same Grand Prix weekend, McLaren pushed things a little too far when they underfueled Lewis' car for his final qualifying lap. The FIA penalised him by forcing the Briton to start the race from P24, although through determination Lewis still finished the race in eighth place. In all these races, McLaren lost valuable points that could be crucial at the end of the season when deciding the championship.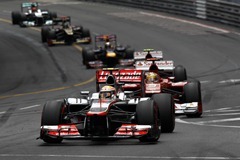 McLaren failed again in Monaco. New problems emerged during Sunday's race including communication problems with Hamilton who after starting 3rd lost two places to Alonso and Vettel, but still managed to take a 5th place at the end of what was one the most boring Formula 1 races in recent years. It seems strange that a team that were known to be one of the fastest to react and correct their own errors is now somehow unable to do just that.
Now Lewis Hamilton hopes to end his wait for his first win of the 2012 season that should put him firmly back in the race for the drivers' championship. He said:
"This is turning into a unique season — one where every race provides new challenges and different outcomes. Even though everything hasn't gone right for us, I'm confident that myself and the team are doing everything we can to challenge for victory each and every weekend. I know that the results we all want will soon come to us.

"We are still very much in the hunt for this world championship and I'm looking forward to bringing that fight to Montreal, which is one of my favourite races of the season. The Circuit Gilles Villeneuve is a fantastic track — it's super-fast in places, which means it requires finesse and precision.

"But you can also end up racing wheel-to-wheel with people at 200mph too, which is an incredible sensation."
Images: McLaren F1 Team