In the survival of the fittest, the old dog proved his pedigree. Michael Schumacher, the 43-year-old driver who had gone 47 races without finishing on the podium, benefited from a steady drive in the European Grand Prix to finish third.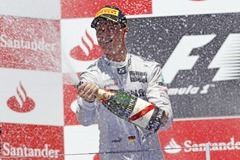 Yet, following recent near misses, his strongest finish in six years was a result more of consistency and good fortune than it was perilous, inspiring driving.
Mercedes-GP's veteran German discreetly climbed through the field as his rivals dropped out, finishing on the rostrum for the 155th time in a career that has spanned more than two decades.
The return to the podium of sport's most decorated driver was a befitting sight for a race that was as chaotic as it was captivating.
Michael Schumacher has seven world championships and 91 race wins to his name, yet had been made to wait 27 months since his return to the sport, following a three-year hiatus, before he could finally spray bubbles alongside his peers.
The former Ferrari driver has come cruelly close to success already this season, none more so than his loss of the pole in Monaco after collecting a five-place grid penalty at the previous race.
Yet Sunday's result was so unexpected he conceded post-race he had lost track of his position and passed the chequered flag blissfully unaware.
It was a deserved result for a driver who has faced much criticism. Consistent, reliable, strong in the fight and the fastest car through the speed trap, it was not unlike the kind of drive Schumacher has performed in recent races.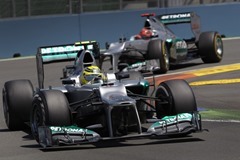 Over 57 laps on a track not known for its overtaking opportunities, Schumacher passed six drivers, including his teammate Nico Rosberg, who set the fastest lap of the day, and the former world champion Jenson Button.
However, much like Fernando Alonso, who became the first driver to win twice this season, his success arrived primarily from the retirement of cars in front of him.
Had Sebastian Vettel and Romain Grosjean not suffered faulty alternators, he would never have finished on the podium.
Likewise, if Pastor Maldonado had not wiped out Lewis Hamilton on the penultimate lap, he would not have felt the need, as he did on Sunday, to ask directions towards the prize ceremony while standing in the parc ferme.
Few can deny the return of Schumacher will result in more positivity surrounding a sport already enjoying heightened interest courtesy of having produced an unpredictable sequence of results that had, ahead of Sunday's race, seen seven different winners from as many races.
When he appeared in the post-race news conference, such was his state of elation that, when asked for a few words in his own language for German viewers, he delivered an eloquent, emotive eulogy – in English.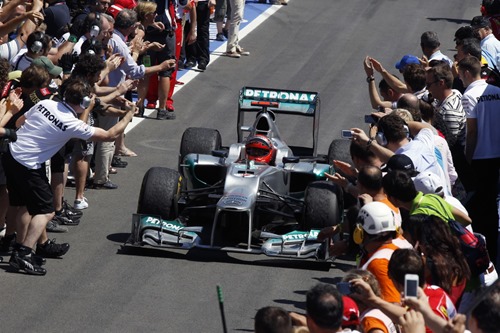 It would have been heart breaking for his team if the Federation Internationale de l'Automobile, world motorsport's governing body, had punished Schumacher for having his adjustable rear wing open under double-yellow flags.
Team data showed he slowed considerably before approaching the Hamilton-Maldonado incident and the FIA punishing their sport's most successful driver would have achieved little more than postponing what has grown increasingly inevitable: Schumacher is ready to resurrect his relationship with the F1 podium.
Source: The National, Images: Mercedes AMG Petronas