Mercedes' inability to replicate their pace from qualifying on race day left Lewis Hamilton branding his car "a disaster" following his fifth place finish at the German GP after starting from pole.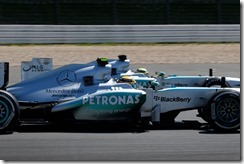 It was the second race in a row that Hamilton failed to finish on the podium after starting the race from pole position, with the former world champion leaving Germany with the same frustrations he had felt in the previous race at Silverstone.
The Mercedes has struggled throughout the season on race day, with the W04 suffering from a worrying propensity to eat into its tyres at a much quicker rate than their rivals – particularly the rears.
After the highs of qualification, Hamilton made no secret of how he was feeling after watching race winner Sebastian Vettel extend pull further away from him in the drivers' championships.
"I'm not really thinking about the championship now. There's really no point – especially as he is nearly 60 points ahead. We are going to need a little a bit of elbow grease and we might be able to do it," Hamilton admitted after the German GP.
"The car is a disaster on heavy fuel loads. It's always a shock when a race goes bad. You never expect it to go as bad as it does. You find you are digging yourself out of a hole right towards the end of a race when all of a sudden the car starts working. It's very frustrating."
Nico Rosberg's ninth place finish rounded off a pretty dismal race for Mercedes, but there are still plenty of positives for the team to take from their continued domination when it comes to Saturdays.
But, ultimately, it's Sunday that counts, and Mercedes will need to start getting it right on a consistent basis if they are going to have any hope of keeping in touch with Red Bull at the top of the constructors' championship.
Image: Mercedes GP