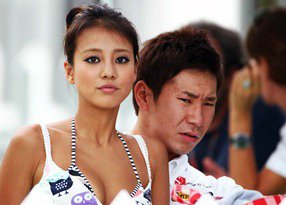 Excitement about the new Formula 1 season is revving up and fans are already talking in 'curves' and 'racing lines'.
Hamilton described the new McLaren MP4-27, unveiled at the team's Surrey base, as "the finest-looking car we've had for some time", while the BBC noted the car's "tightly packaged rear end…" But, for a growing number of fans, the cars are not the only objects of desire on and around the starting grid. So, talking of "tightly packaged rear ends" here's a countdown of the top 5 WAGs of F1.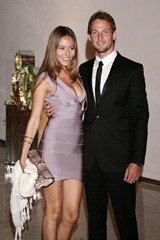 Yu Abiru
  Kamui Kobayashi is no stranger to controversy with his daring driving, so it's no surprise his maybe/ maybe-not girlfriend, Yu Abiru, is just as controversial. Abiru, who is rumoured to have found herself in a spot of bother for shoplifting, when she was 15, has already upset a few of Kobayashi's female fans- most probably because she's hotter than a set of F1 brakes (750°C, thank you very much). She's also voiced a number of anime characters but we weren't listening; we could only stare.
Jessica Michibata
Half-Japanese, half-Argentinean model Jessica has been Jenson Button's nocturnal co-driver since 2007. Probably best known as the face (and body) of Peach John, Japan's answer to Victoria's Secret, Michibata is one of the front runner's for this season's F1 WAGs championship.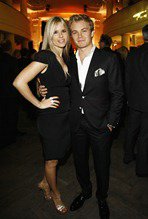 Vivian Sibold
  Is it fair to describe Nico Rosberg as a Formula 1 underachiever? Probably, although his love interest is one of the higher-flying F1 WAGs. His interior designer girlfriend, Vivian Sibold, recently breathed new life into Lotus' workspaces, even designing a new motor home for the team. She's easy on the eye and makes things easy on the eye too. Congratulations Nico!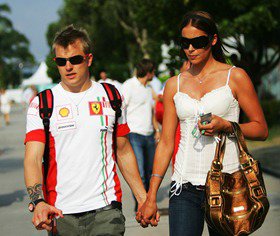 Jenni Dahlman
  Kimi Raikkonen is back! And that can only be a good thing provided he brings his wife along for the ride. Jenni Dahlman-Raikkonen is a former model and (drum roll please) a former Miss Scandinavia (a region not exactly short of a stunner or two). Now a professional show jumper (stop sniggering at the back) we're looking forward to welcoming her back with open arms.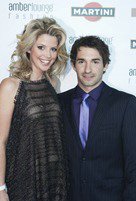 Isabell Reiss
  Timo Glock's keeping things fresh with a younger, taller model from Germany. Economics student Reiss appeared in (but didn't win – a disgrace) Germany's Next Top Model. We're happy to give her top marks for her pre-season examination and expect great things of her in the Marussia (formerly Virgin) garage this season.
  To check out these beauties in the flesh at various grands prix throughout the F1 season, visit www.getmein.com, where you can also pick up a range of other sports tickets .
Article by Sophie Coley