Toro Rosso are in no rush to find a replacement for Daniel Ricciardo after it was confirmed that the 24-year-old Australian will be replacing Mark Webber at Red Bull for 2014.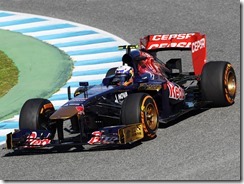 Ricciardo has followed in the footsteps of Sebastian Vettel, current favourite for the Drivers Championship in the Unibet betting odds and a man who also worked through the Red Bull development programme, earning experience with sister team Toro Rosso, before making the step up.
That means it is highly likely that the 22-year-old Portuguese driver Antonio Felix da Costa or 19-year-old Spaniard Carlos Sainz junior will be promoted after they both impressed during the recent young driver test at Silverstone.
Jean-Eric Vergne is expected to stay with Toro Rosso next year although the 23-year-old Frenchman's nose may have been put out of joint after being overlooked by Red Bull.
"'We are very pleased to see Daniel make this move, which means he will follow in the footsteps of Sebastian Vettel. As to who will replace Daniel at Toro Rosso in 2014, we will now look at all our options and make a decision at a later date, as there is no immediate need to rush," said Toro Rosso boss Franz Tost.
"When Dietrich Mateschitz acquired the team that became Toro Rosso, his stated aim was that it should be the final step in the training of young drivers, with the eventual goal of graduating to the 'senior' team."
Ricciardo has impressed in his two seasons with Toro Rosso after making his name when he tested for Red Bull at the young drivers' test in Jerez in December 2009.
He was Toro Rosso's test and reserve driver for the 2011 season and was allowed to join Hispania Racing in the second half of the year where he took part in the last 11 races.
In the 2012 season he picked up ten points for Toro Rosso and has secured 12 points already this year.
Info: Celia, Image: Toro Rosso