After both cars finishing on the podium in Bahrain, and having a very good performances in the Mugello tests, Lotus F1 seems to be the team to beat in Barcelona.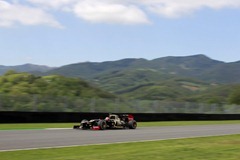 The Lotus strength this year seem to be consistency, if you decide not to count Romain's first two races and compare only the time scored in tests and races, the E20 is the most consistent car out there. In fact, Mark Webber was quoted by the German publication Auto Motor und Sport as saying that: "If you look at all the races and tests, then the Lotus is the most consistent car in the field".
With the tyres playing a key role in this year's Formula 1 Championship, Lotus F1 Team seem to have found that window which makes the difference when it comes to getting the maximum out of that rubber. But they did not get here without suffering a little. If we think of Kimi back in China, he was running strongly in second place until his tyres could no longer deliver sufficient performance, finally finishing in 14th.
The Lotus E20 has showed in all 4 races held so far that this car has the speed to qualify in a good position and also have a good race pace, which has allowed both Kimi and Romain to make plenty of overtaking manoeuvres in the opening races of the championship. Considering the tests from Mugello, it is clear that Lotus has made another step forward and if we add that to the consistence they had so far, a victory in Barcelona could very well become a reality.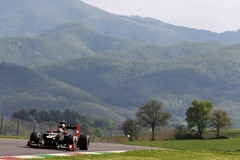 The first four races have produced so far four different race winners and the Montmelo Track is more than likely to give us the fifth winner of the season.
At Barcelona, Lotus will be running a comprehensive upgrade package that includes parts not seen when the team topped the timesheets at the second and third days of in-season testing. While work was underway in Mugello, Lotus was also busy completing full-scale wind tunnel testing on a raft of new parts at a facility in the United States.
"Barcelona will see the first tranche of Windshear upgrades," explained technical director James Allison, "accompanied by a selection of new parts stemming from our normal tunnel development programme. The package will include revised versions of the front and rear drums, the front wing and the floor. None of these parts were used in Mugello."
Images: Lotus F1 Team/LAT Photographic