Former FIA president Max Mosley says criticism of the 'new' face of formula one is being powered by those with an "agenda".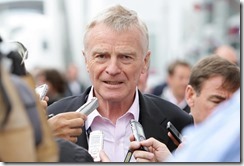 Since the sport made its revolutionary switch to the smaller, quieter and greener turbo V6 engines, the loudest critic has been Ferrari. The current boss of F1's governing body, Jean Todt, is the new champion of the regulations, but they were actually the brainchild of Briton Mosley, who initially wanted the engines to be even quieter four-cylinder ones. He said the old V8s were "dinosaurs". "It's a really interesting technology and it's change," Mosley told Reuters when discussing the controversial new V6s. "If you don't have change, you just disappear." In the last few days, it has been all change at Maranello, as Stefano Domenicali was ousted and the F1-unknown Marco Mattiacci was installed as team boss. But what has not changed is Ferrari's criticism of F1 2014.
Italy's olympic chief, Giovanni Malago, was quoted in the Italian press recently as admitting he does not like the 'new' formula one. Ferrari has now reproduced the quotes on its official website. "In my opinion, it's a form of self-harm," Malago said, referring to the 2014 rules. "I hope the people who run the sport look again at the rules because the way formula one is now, it has much less appeal and that's a shame as it is an extraordinary world." Australia and Malaysia were panned as mainly processional races and the milder sound of the engines was criticised by many. But Bahrain – race three – was a true thriller, as Lewis Hamilton and Nico Rosberg fought wheel-to-wheel for victory.
Mercedes' Hamilton said on Tuesday: "Bahrain was fantastic, and not just for us as a team but for the sport. I'm sure it won't be the last time we see a great show this year." Ferrari has not been the only paddock voice making noise about 2014, as reigning world champions Red Bull and even F1 chief executive Bernie Ecclestone have also been highly and repeatedly critical. "It's quite entertaining," Mosley said, "because you know all the people and you know the way they react and they are all, of course, pushing their own particular agenda. "But what they don't realise is that the public understands that. The truth of the matter is I think that the public don't take the slightest notice."