Mercedes may now be at the front, but little has changed in formula one.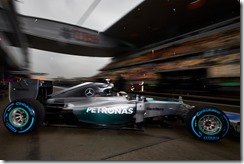 That is the view of former driver Juan Pablo Montoya, who left the paddock half-way through the 2006 season to begin his foray in the American series Nascar. Now 38, the Colombian has switched to Indycar, where between his races at Long Beach and Alabama he sat down to watch the Chinese grand prix on television. "I watched for five laps and then switched it off," the winner of 7 grands prix told Germany's Auto Motor und Sport. Montoya said he did not find the Shanghai spectacle "exciting" enough, adding that part of the problem is the loss of the high-revving, screaming engines of the past.
But the main issue, he explained, is that Indycar is simply better racing. "This has nothing to do with the rule changes in formula one," said the former Williams and McLaren driver. "Formula one has always been very technical. "As a driver you are so dependent on the car. Do you really think Alonso and Vettel have forgotten how to drive? It's just bad luck for everyone who is not in a Mercedes. "And that's not going to change much this year," Montoya warned.
He was also quoted recently as being heavily critical of the DRS overtaking system in F1, saying the sight of a great driver passing a rival just because his rear wing is wide open is "like giving Photoshop to Picasso". Montoya explains: "As a driver I don't like it because it makes overtaking too easy. You just have to get within one second of the guy in front, press the wing button and drive past. "For the spectators it's great," he added. "What do you want in sport? A good show, and DRS makes the show better, no question."