Yet another surprising announcement came from the Williams F1 Team today, when the Grove based outfit informed that press that Adam Parr will leave the team at the end of this week. Adam has been with the Williams every step of the way in past five years and his job was to aid team founder Frank Williams.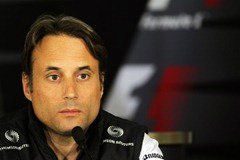 "I asked Adam to join Williams at the end of 2006 to support me in the running of our team," said Williams. "Over five years, Adam's achievements have surpassed my expectations and I must thank him for his service. Not least for the decisive role he played in the technical changes made last year which are beginning to show through in the team's improved competitiveness this season, and for leading this company to a successful IPO. "Adam leaves us on good terms to pursue a better balance in his life for which I wish him and his family well. He has left us in good shape and I have every confidence that the Board and senior management team at Williams will continue to drive the business forward into a promising future."
  At this point Nick Rose who holds a few other functions with different companies (2 – FTSE100 companies & non-executive director of Williams Grand Prix Holdings) has been appointed non-executive chairman. Frank Williams will continue to oversee the company with the aid of Toto Wolf and C.E.O. Alex Burns.
  "I am very grateful to Frank for giving me the opportunity to work for Williams over the past five years – a period that has been both challenging and rewarding," said Parr. "Williams is a unique team with over 500 great-hearted and talented people and many superb partners in and out of Formula One. Williams is now set up to move forward and I wish everyone at Grove well."
  In 2011 the team had the worst season in history but 2012 found Williams F1 Team on the right foot and they already collected more points this weekend in Malaysia than last year in total,  thanks to Bruno Senna who finished 6th. Pastor Maldonado had to retire in the final laps of the race because of an engine failure while he was running 10th.
Info: Williams F1 Team & Formula1.com