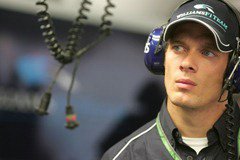 Williams F1 Team has confirmed today that Alex Wurz has returned to  Formula1 as a driver mentor.
Wurz will work with Pastor Maldonado, Bruno Senna and the Williams F1 team to share his 11 years of Formula 1 experience as the Oxfordshire based team tries to return to competitive form.
The Austrian has no less than 18 years of motorsports experience, in which he claimed three F1 podium finishes with three different teams: Renault, McLaren and Williams.
"This is a great initiative by Williams and highlights just how hard the team is pushing to optimise its performance," Wurz said.
"Throughout my career as a sportsman, which started at the age of 12 in BMX racing, includes over a decade in Formula 1 and is still on going (currently racing for Toyota in the WEC Championship), I am lucky to have gained so much experience.
"I grew up in a family business of driver training and naturally I enjoy helping fellow athletes to operate at their best. I'm really looking forward to using my expertise to help Williams at this important stage in its history."
Williams's Chief Operations Engineer Mark Gillan said: "I am delighted to be working once more with Alex and I'm looking  forward for his valuable input with the drivers as the whole team strives to continuously improve in all aspects of its operation."
Wurz will make he's first official appearance with the team at the upcoming tests in Barcelona and will attend most, if not all, of the 2012 season races.
Image: © Williams F1