Kimi Raikkonen thinks that all the top teams are very close together, with just four days before the Formula1 Season starts in Melbourne Australia the teams are extremely busy analysing the data from pre-season to get an idea to where they truly stand.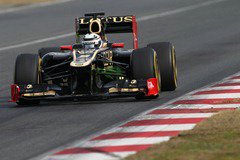 At Lotus GP Kimi Raikkonen and his teammate Romain Grosjean are very happy with the look and feel of the new Lotus E20 and both drivers are eager to get to Australia and take E20 around the Albert Park Circuit and have a real assessment of where they truly are in comparison with the other teams.
Kimi Raikkonen said: "For the first race we need a weekend without problems, we don't know were we are but on the other hand nobody knows, if you are to look at the times set in pre-season all the top teams are very close." "On Friday we will have some idea and on Saturday after qualifying we will know where we are" he added.
Asked about the Albert Park Circuit Kimi said: "You need a car with good traction and everything from testing says that the E20 has good traction so that will help us. Strong turn-in and stable braking help too, and those areas also feel good with the car so we are well placed. The track can be a bit slippery at the beginning of the weekend and the Melbourne weather is not always very warm; the Melbourne weather can definitely be a bit tricky. This will be the first race so I don't know how we'll compare to the other teams. My engineers have been running simulations and looking at the test data so we have an idea of how the car should work at Albert Park, but we won't know for sure until we get out on track. It's very difficult to say before we've been out on track, but I think and hope we'll be reasonably strong."
Image: © Lotus F1 Teams/LAT