Ferrari can be a factor for victory in the Korean Grand Prix if it puts together the perfect race, according to world championship leader Fernando Alonso.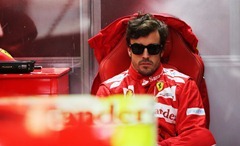 The two-time champion, who will start from fourth on the grid – his best qualifying result since taking pole position in the German Grand Prix in July – reckons that strong race pace and teamwork can help him match Red Bull's car advantage in the 55 lap race.
Red Bull has been the team to beat so far in Korea, just as it was in Suzuka, but Alonso is counting on Ferrari's traditionally strong long-run pace to fight with championship rival Sebastian Vettel, who starts second on the grid.
"I am reasonably confident to do a good race, if I don't crash, normally they are good for us," he said. "Yesterday [in practice] we were good with the race pace.
"In the race there are many factors. In qualifying it's only about the quickest car to get pole position, in the race it's not only about the fastest car.

"You need to have a good strategy, good tyres, good pit stops, good start… there are many things that can be involved and with those, in general, I think we are the strongest team. And thanks to these strengths we are leading the championship. "So we need to use our good points, hide a little bit our weakness – which maybe is qualifying – and today I think we did a good qualifying and we need to use our strong point now tomorrow."
Red Bull has taken a step forward over the past two races, and in Suzuka became the first team this year to record a front-row lockout, which Mark Webber and Sebastian Vettel repeated in reverse order on Saturday in Korea.
Alonso admitted he had been surprised by the jump in performance that Red Bull had produced.
"It was a surprise in Suzuka maybe to see the big advantage they had," he said. "Not only compared to us, in Suzuka they were out of reach for everybody, and I was a bit surprised. "So maybe Suzuka was the perfect layout for them or perfect characteristics. Here is maybe a little bit more normal, without forgetting that they were first in Q1, Q2 and second in Q3. So they are not bad."
Info: Racer.com, Image: Sutton
Find us on Facebook and Twitter for all the latest updates for the F1 2012 season