Fernando Alonso does not think Ferrari can end its 2013 campaign by finishing runner-up to dominant champions Red Bull.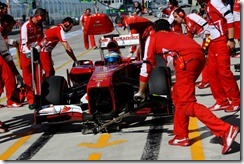 The Italian squad is currently sandwiched between Mercedes and Lotus in the lucrative constructors' world championship with just Sunday's Brazil finale to run. But Spaniard Alonso said continuing to fend off Lotus is all Ferrari can now realistically hope for. "There is nothing more we can do in this moment," he is quoted by France's L'Equipe. "We are fighting to be in Q3 and scoring points on Sunday. Maybe it (finishing second) was just too high a goal. "You have to be realistic and realise that second place was a dream," Alonso added.
However, while acknowledging that Ferrari's 2013 car is slower than the Mercedes and the Lotus, Alonso said he is proud of his personal performance this year. Indeed, in Austin, he mathematically clinched the runner-up spot behind Sebastian Vettel in the drivers' chase. "I am proud," he said, "because we clearly do not have the second fastest car. So finishing second is a great reward for me. "But I would rather be tenth ten times and once champion, than to always finish second," Alonso insisted.
He is quoted by Spain's AS sports daily as admitting he is feeling "tired" heading into the last race of the season in Brazil. "My preparation for this race (the US GP) was not ideal," said Alonso. "I was a week on the couch and in bed with headaches, dizziness. "Physically I feel tired now and I felt stress throughout the weekend," he added. "I think I'll be fine for Brazil, I am improving day by day and hopefully I feel a little better, less tired and I enjoy the weekend some more."
Info: GMM, Image: Ferrari