As the formula one paddock emptied at Monza, one rumour had moved into the realm of fact — Kimi Raikkonen is returning to Ferrari in 2014.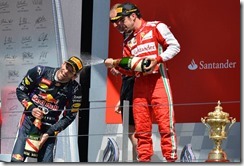 The news was being confidently reported by broadcasters, including Germany's RTL, the major daily Bild, and even perhaps the most respected correspondent in the paddock, Auto Motor und Sport's Michael Schmidt. Ferrari president Luca di Montezemolo will reportedly inform Felipe Massa that his services are no longer required in a personal meeting at Maranello on Wednesday.
It would go some way to explaining the Italian team's current 'number 1' driver Fernando Alonso's foul mood and outbursts of recent days and weeks. Bild reported that the long delay in the actual signing of Raikkonen's deal is because part of his management team, David Robertson, is in hospital in the US with cancer.
In the meantime, Spaniard Alonso has pushed hard for the status-quo, openly arguing that Massa should stay put. He has not won the day. Der Spiegel claims to even know who will pay Raikkonen's approximately EUR 20 million salary — partly the Alonso-linked Spanish bank Santander, and partly team sponsor Shell. "Let's see what happens," Massa told the Italian broadcaster Rai on Sunday. "Yes, this race was important for my future, but it doesn't mean that my only future can be (wearing) red."
He is also quoted by O Estado de S.Paulo newspaper: "He (Montezemolo) will not announce anything without talking to me, for sure. "I love Ferrari. But the other teams also know what I can do." Finn Raikkonen, as per usual, was also giving little away on Sunday. "I don't know anything yet," he told the Rai broadcaster. "Once I know, I'll tell you." Indeed, once the news becomes official, the really explosive speculation may begin. The German dailies Bild and Welt already report that Alonso is so unhappy with Raikkonen's arrival that he could jump ship to fill the Finn's place at Lotus.
That move actually might not be as unlikely as it sounds. Bild newspaper said it could coincide with a ramping up of works Renault support for the Enstone based team, backed fully by the French carmaker's chairman Carlos Ghosn. When asked about that potentially explosive news, Lotus team boss Eric Boullier said: "If Fernando knocks on my door, I will answer it. "I just hope that I can pay for it!" He is also quoted by f1news.ru: "We are trying to establish a relationship with Renault and Total, which is important from a technical standpoint but it also may help on the financial side."
Switzerland's Blick newspaper reported that Nico Hulkenberg will definitely not be staying at Sauber next year. The German has been linked with Massa's Ferrari seat, but he might also be a candidate to replace Raikkonen at Lotus. "We all have plans and backup plans," said Boullier. When asked simply 'Kimi or Nico?' the Frenchman answered: "Good question."
Info: GMM, Image: Ferrari