Fernando Alonso said he won the Chinese Grand Prix with pace in hand after taking the chequered flag 10.1s ahead of his nearest rival Kimi Raikkonen, giving him optimism for his title fight this year.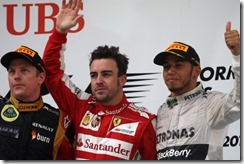 Alonso made a strong start and passed Hamilton for the lead on lap five using DRS. From that point onwards he used the strength of the Ferrari over long stints to ease ahead of his rivals and by the time the varying strategies worked out he was comfortably in the lead.
"It was a fantastic race for us from the start to the end without any big problems from the car," he said. "The tyre degradation was better than expected so we managed the pace. It feels great after the retirement in Malaysia because we had some pressure to finish the race. The two races we have finished this year [Australia and China], one was in second place and the other a victory so definitely the start of this 2013 campaign is looking good and I'm very optimistic."
When it was clear that Alonso had a comfortable lead his race engineer asked him to take it easy, but the Ferrari driver said he had pace in hand throughout the race.
"You always push in a Formula One race; it's impossible not to push," he added. "But it's true that we had some pace in our pocket, but it's difficult to know when to use it depending on the state of the tyres. We have more potential and hopefully we can show that in Bahrain next week."
Asked how he expected to perform in Bahrain, Alonso added: "We expect a tough race again and I think in Bahrain we will see maybe different conditions. Who knows how competitive anyone can be but definitely, as I said before, the races that we've finished this year the car seems to be able to be on the podium again in Bahrain."
Info: © ESPN EMEA Ltd. Image: Ferrari