The F1 world is only now waiting for the announcement. "It's done," agreed Autosprint correspondent Alberto Antonini.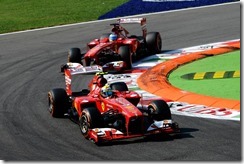 "Kimi Raikkonen has a Ferrari contract in his pocket." It is explosive and significant news, because – at least on paper – Fernando Alonso alongside the Finn is arguably the best driver duo on the grid. "If it works, the constructors' title will be harder for us," Red Bull's Dr Helmut Marko told Bild newspaper. "Or they could tear each other apart. Wait and see," he added.
Indeed, Spaniard Alonso has made clear his strong desire to continue to be partnered by the Brazilian Felipe Massa. "I have a great respect for Felipe," he is quoted by Brazil's Globo. "He is a great professional and works very hard on the race weekends but also in the simulator. "If the team decides to keep him, I'll be happy," added Alonso.
So it's there where the problem may lie. Having already flirted with Red Bull, the latest rumours are linking Alonso with a shock switch to McLaren or even Lotus. "To be honest, we have several plans," said Lotus team boss Eric Boullier, facing up to the prospect of probably losing Raikkonen. "After Ferrari fills their vacancy, our seat will be the most coveted. So we can afford to see what happens."
The leading candidate to replace Raikkonen at Lotus is the German Nico Hulkenberg, who put his CV in the limelight with a top performance at Monza. But the experienced Massa could be another option. "Ferrari is a super team; it's difficult to find another like it," the Ferrari driver said. "So it's important to look at all the options."
Info: GMM, Image: Ferrari