Fernando Alonso spent the day with Italy's major cycling race, the Giro d'Italia.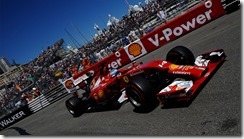 Having worked earlier this week in Ferrari's F1 simulator, the Spaniard headed further north on Thursday to drive the 171 kilometre mountain stage of the famous bike race in a VIP car. He then presented the race leader with the iconic pink jersey. Alonso, however, was not just having a break from the rigours of F1's 19-race season. Last year, the 32-year-old – an avid cycling amateur and fan – made an ultimately failed bid to take over the top Spanish team, Euskaltel-Euskadi. After the bid collapsed, Alonso vowed instead to set up a cycling team "from scratch" that will compete in the upper echelon of the sport from 2015.
More recently, however, there have been rumours Alonso's plans are not on track. Reports have suggested Alonso tried but failed to sign the top rider Peter Sagan, and that talks with a $20 million per year title sponsor from the United Arab Emirates and also the cycling governing body UCI may no longer be going well. But when asked about his team, registered with the UCI as 'FACT' (Fernando Alonso Cycling Team), he told the Giro d'Italia on Thursday that the plan is to get up and running in 2015.
"We're working on it," said Alonso. "That's our aim and what we're hoping for. "As you know there are some rules to respect, some timing to respect, and we're working in the background to do everything else to respect the right steps. "We are working in a professional manner and a respectful manner as well because we are entering a world that is not our world so we need to learn many things," he added. "We will do it step by step. There is not any hurry because we want to do it in a good way."
Image: Ferrari