Valtteri Bottas set the pace in final practice for the Austrian GP of 2014.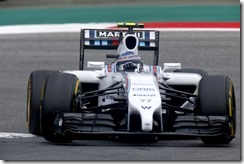 The Finn narrowly beat Lewis Hamilton in the free practice three, he was just 0.05secs quicker than Hamilton, who was in turn just 0.053secs clear of the second Williams of Felipe Massa.
The surprise of the session was Toro Rosso's Daniil Kvyat who took fourth, ahead of Mercedes' Nico Rosberg and Ferrari's Fernando Alonso.
The field was tightly packed around the short lap at the challenging Red Bull Ring, with just 0.079secs covering the first four and 0.2secs the top six, the fastest Red Bull was just seventh on the team's home circuit, in the hands of Daniel Ricciardo, who was 0.17secs quicker than his four-time world champion team-mate Sebastian Vettel in 10th.
Kevin Magnussen was eighth for McLaren, with team-mate Jenson Button missing most of the session after he experienced some brake problems. Kimi Raikkonen was ninth, again struggling compared to team-mate Alonso, 0.434secs adrift of the Spaniard.
| | | | | |
| --- | --- | --- | --- | --- |
| Pos. | Drivers | Teams | Time | Laps |
| 01. | 77 – Valtteri Bottas | Williams Martini Racing | 1:09.848 | 22 |
| 02. | 44 – Lewis Hamilton | Mercedes AMG Petronas | 1:09.898 | 25 |
| 03. | 19 – Felipe Massa | Williams Martini Racing | 1:09.901 | 21 |
| 04. | 26 – Daniil Kvyat | Scuderia Toro Rosso | 1:09.927 | 25 |
| 05. | 06 – Nico Rosberg | Mercedes AMG Petronas | 1:09.999 | 31 |
| 06. | 14 – Fernando Alonso | Scuderia Ferrari | 1:10.054 | 17 |
| 07. | 03 – Daniel Ricciardo | Red Bull Racing | 1:10.392 | 19 |
| 08. | 20 – Kevin Magnussen | McLaren F1 | 1:10.449 | 23 |
| 09. | 07 – Kimi Raikkonen | Scuderia Ferrari | 1:10.488 | 22 |
| 10. | 01 – Sebastian Vettel | Red Bull Racing | 1:10.562 | 21 |
| 11. | 27 – Nico Hulkenberg | Sahara Force India | 1:10.683 | 22 |
| 12. | 13 – Pastor Maldonado | Lotus F1 Team | 1:10.776 | 26 |
| 13. | 25 – Jean-Eric Vergne | Scuderia Toro Rosso | 1:11.043 | 22 |
| 14. | 11 – Sergio Perez | Sahara Force India | 1:11.103 | 22 |
| 15. | 08 – Romain Grosjean | Lotus F1 Team | 1:11.235 | 18 |
| 16. | 99 – Adrian Sutil | Sauber F1 Team | 1:11.294 | 24 |
| 17. | 21 – Esteban Gutierrez | Sauber F1 Team | 1:11.558 | 23 |
| 18. | 17 – Jules Bianchi | Marussia F1 Team | 1:11.848 | 21 |
| 19. | 10 – Kamui Kobayashi | Caterham F1 Team | 1:12.320 | 23 |
| 20. | 09 – Marcus Ericsson | Caterham F1 Team | 1:12.892 | 27 |
| 21. | 04 – Max Chilton | Marussia F1 Team | 1:12.915 | 14 |
| 22. | 22 – Jenson Button | McLaren F1 | 1:14.237 | 4 |
Image: William Martini Racing