F1 teams got off to a faltering start on Tuesday as the sport's brave new V6 era began.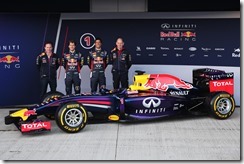 Some were not even at the starting gate for the start of the first of just three four-day winter tests, as Lotus and Marussia do not have their 2014 cars in southern Spain. Marussia, however, is en route. "Very pleased to report that the MR03 is now on its way to Jerez," the team, having earlier flagged minor technical trouble, said on Twitter. "Our garage awaits you!" Other teams, notably McLaren and reigning world champions Red Bull, had not done a single lap at the time of writing, deep into the afternoon. Williams' new car also has not been seen on track, while the Sauber has only done three laps so far. According to Germany's Auto Motor und Sport, Red Bull designer Adrian Newey blamed the RB10's track absence on a "silly" problem. He also raised an alarm about the new, low front wings, arguing not only that they are ugly, but they might also be dangerous. The reduced height is supposed to minimise the risk of cars being launched into the air, but "I am concerned the opposite may now happen, that cars now submarine effectively," said Newey.
Force India's newly-launched car, with Sergio Perez at the wheel, failed on its installation lap. And even the most prolific car of the opening day so far, Lewis Hamilton's Mercedes, only lasted 18 laps until the front wing failed under braking for turn one. Ferrari's start was also faltering, with Kimi Raikkonen stopping on his installation lap before the silent F14-T was returned to the pits on a truck. The Finn returned to the track in the afternoon, but long before Caterham had even turned a lap. "We're nearing 'fire up and go' time," the green-coloured team, having earlier delayed its official launch rollout, said at 2pm.
Italy's Autosprint, meanwhile, reports that Charlie Whiting has defused the first two technical feuds of the season. The first was about Ferrari's reluctance to install a beefier security cover over its turbo unit, while Lotus' unusual 'double nose' had also raised eyebrows up and down pitlane. "We have passed all the necessary crash tests," Lotus technical director Nick Chester said on Tuesday, "and we are very confident that our design complies with all the FIA legal requirements. "Where there are so many variations in design, there is always bound to be a little talk, but we remain relaxed and focussed on our design and progression."
Info: GMM, Image: Red Bull