A good day at the office one might say for the Caterham F1 Team as they have managed to bring one car into the Q2.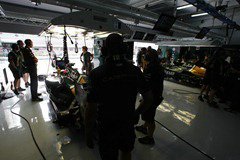 Heikki Kovalainen was the driver who managed to extract the most out of the CT01 single seater and after putting in a perfect lap, he kicked Michel Schumacher out of the qualifying session to claim his first pass into the Q2 in the 2012 Formula 1 season.
The team has been putting some extra hours to get the cars ready and in the end all worked perfectly for them. What is worth noticing is that Heikki is only about half a second away off Bruno Senna's time who will start 15th.
Here is what drivers and key people from the team had to say after this strong performance:
Heikki Kovalainen: "That was an excellent qualifying session for our team. It's a real bonus for us getting into Q2 but we'd already seen this morning that we were close to a few cars and we thought that with the conditions today, being hot and pretty windy, we might be able to use the option tyres to get us into Q2, and it worked out. We've also saved a set of tyres for tomorrow as we were pretty sure we wouldn't be able to get too much higher, and with the degradation rates we've seen yesterday and today it's clear tyre management is going to play a big role tomorrow. Overall, I'm delighted for the team. We've worked really hard to put ourselves in a position where we can fight and today we showed that we are close enough to record results like we did today. We made progress over the winter, and even though we haven't really shown it yet this season, today's the sort of result we knew we could put in, so it's a great day, for everyone in Caterham F1 Team back at the factory and here on track."

Vitaly Petrov: "I'm reasonably pleased with how today went, bearing in mind the problem we had with the floor in FP3 which cost us a bit of time and meant we weren't really able to find a balance on the soft tyres that I could really exploit in qualifying. My run on the prime tyres was good – I was very close to my team mate and the car felt good, but when we switched to the options the car just didn't feel right. It wasn't so much a balance issue, it was more about how the car felt under braking and I think that's what cost me the time on the soft tyres. Despite that I think we look like we're getting towards where we should be. We're much closer to the cars ahead than we were in China and having already seen how we can fight with some of the midfield cars in the races I think tomorrow could be a good day for us. It's definitely going to be interesting. There will be a lot of stops and it'll come down to who uses their tyres best."

Thierry Salvi, Renault Sport F1 Support Leader: "Seeing Heikki in Q2 is a very good result for us and the whole team. We have been working on giving the drivers the right balance between top speed and traction out of the slower corners and today's result shows we have found the right setup for this track. The wind today, particularly on the main straight where there was a stronger head wind than yesterday, meant we had to fine tune the engine maps and our final positions in today's qualifying session is the reward for the work the whole team has done."

Mark Smith, Technical Director: "We are all delighted with today's result. This morning we had a very good FP3 and the work we have done overnight has paid off with Heikki's result today. Everything on his car worked as we had planned and this is a clear sign that the whole team is making progress. Vitaly had a strong run on the first set of medium tyres but he just was not able to get the most out of the soft tyres on his second run, but he has already shown how strong he is on Sundays so we have good reason to be positive about his prospects here as well. We know we have a good package for the race tomorrow, so we'll look forward to what will definitely be an exciting Grand Prix and aim to maintain the sort of pace we have already shown in the first three races this season."
Source: Caterham F1 Team
Full Bahrain 2012 Qualifying Results