A DRS problem for Michael Schumacher scuppered his chances of qualifying higher, while Nico Rosberg failed to make it two straight pole positions.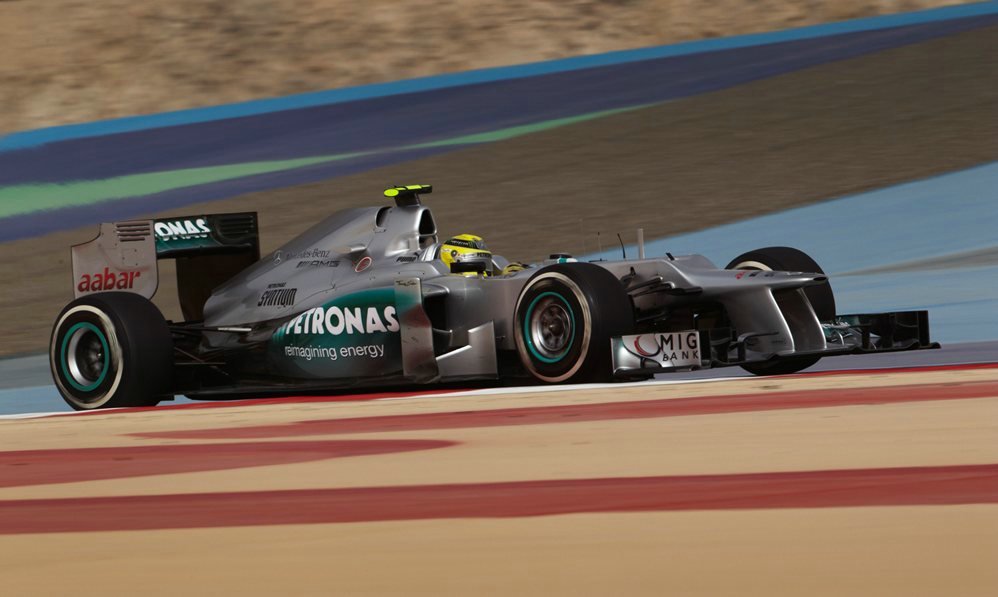 Nico Rosberg starts tomorrow's Grand Prix from fifth position, while Michael Schumacher starts from seventeenth after qualifying eighteenth.
Rosberg yesterday admitted that tyre wear was a huge problem for the team, which means that both drivers are likely to suffer badly tomorrow. However, Rosberg only used one set of tyres on all three sessions, and Schumacher will have a few fresh sets after missing Q2 and Q3.
Nico Rosberg: "In general, I felt very comfortable during qualifying today. However, as we have been focusing on our race pace, there is always a compromise in the qualifying set-up. I think that I'm in a good position for the race for tomorrow. I am the only driver in the top five who has a set of new option tyres which can be very useful at this circuit. It will be very important to drive carefully and find the right tyre management in the race, as the conditions are very tough out there."
Michael Schumacher: "I am obviously very disappointed to have qualified in 18th position on the grid for a race which looks to be quite competitive for us. Unfortunately on my fast lap, which was looking quite good, my DRS broke in the last sector. We tried to fix it in the garage but were not able to go out again. Trying for a lap without DRS on different tyres would not have made sense. We now have to try to see what we can do from here and push as much as possible."
Ross Brawn: "A session of mixed fortunes for the team this afternoon. In Q3, we made the strategic decision for Nico to do just one lap and, although his starting position is not optimum, he is the only driver in the top five to have a new set of option tyres available. This could prove valuable in the race, and we will learn tomorrow if our strategic decision pays off. Looking to Michael, he experienced a failure of the DRS rear wing flap, just before he entered the back straight on what would have been his quickest lap. This cost him around half a second, and with little more than a second separating the top 17 cars in Q1, that proved decisive. Unfortunately, we were unable to repair the system in time for him to run again, and he was bumped down to P18 at the very last moment. It will be a long and interesting race tomorrow, in demanding conditions, and we will look to make the most of our opportunities to achieve the strongest possible team result."
Source: Mercedes AMG Petronas
Full Bahrain 2012 Qualifying Results