McLaren were hoping for a victory in today's race, but everything that could have gone wrong pretty much did go for wrong for the Woking based team.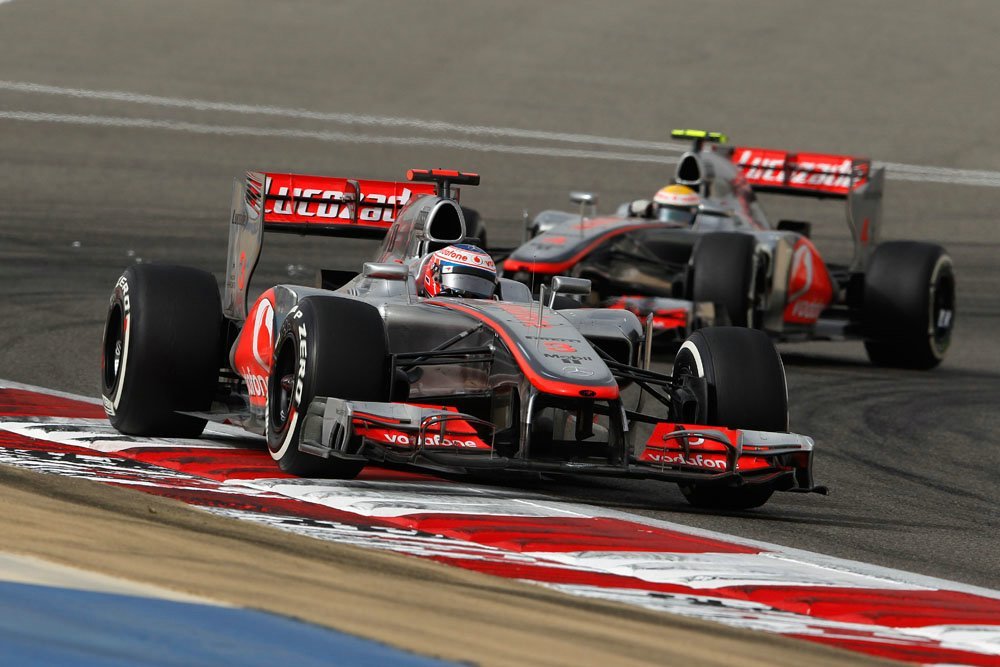 Lewis Hamilton started on the front row of the grid, but a poor pit stop that involved a difficulty fitting the left rear tyre spoilt Hamilton's race and chances of a win, resulting in a finish of eighth.
Jenson Button meanwhile, after having a race to forget last week, had another race to forget today after suffering a puncture, exhaust issue and then a differential problem causing the Briton to retire near the end of the race.
However, despite the problems, McLaren still lacked pace today compared to Red Bull and even Lotus F1, and Team Principal Martin Whitmarsh admits that they need to improve for Europe. McLaren are now second on the Formula 1 Constructors' Championship, while Lewis Hamilton has been demoted from first to second in the F1 Drivers' Championship, four points behind Sebastian Vettel. Jenson Button has moved from second on the table to fourth, ten points behind the lead.
Lewis Hamilton: "There are good times and bad times in motor racing. I guess this was just one of those days. By rights we should have been fighting to finish in the top four today, but it didn't work out like that in the end. The delays in the pits were a big part of that, of course. For the driver sitting in the car, that's always frustrating, because you're just waiting and there's nothing you can do to help. We lost a bit of world championship momentum today – but, on the plus side, we still picked up four world championship points, and every point you score is valuable in a season as close-fought as this one. Now we'll head into the European season, and it's clear that we've got to do two things: we've got to work on the pace of our car and we've got to improve our pitstops."
Jenson Button: "I didn't have a very good balance today: I was struggling all afternoon with oversteer. We were taking front wing out of the car all the way through the race, in fact. However, my final stint was a long one, and, if I hadn't struck trouble, I reckon things would have got quite interesting in the final laps. Some drivers had pushed harder at the start of that stint, but I'd been looking after my tyres. Into the last five laps, I started pushing pretty hard, and I caught up with Paul [di Resta] and Nico [Rosberg]. But, just as I braked for the final corner [on lap 53], the right-front corner lifted up in the air and I realised I had a [left-rear] puncture. So I quickly radioed the team, and pitted. In the last few laps, the car sounded really noisy. I think the initial problem was an exhaust failure, then my puncture, and then a differential failure; so I had to retire. It's been a pretty difficult weekend for the whole team."
Martin Whitmarsh, Team Principal: "Clearly, our performance was disappointing this afternoon. Having said that, both Lewis and Jenson drove very well in extremely challenging conditions. Lewis pulled off some sensational passing manoeuvres in his efforts to push his way through to the front, but in the end he was let down by two slow pitstops, both of which were caused by delays at the left-rear corner of his car. Jenson's pitstops were trouble-free, by contrast, so we'll have to investigate what the problem was with the left-rear corner of Lewis's car. Jenson, too, had a frustrating run, which was finally curtailed by a puncture and a problem with both his differential and his exhaust, the combination of which forced us to retire his car…

From here we travel to Barcelona, on which circuit we performed strongly in pre-season testing. Lewis and Jenson are as resilient as they are competitive, so you can be well sure that in Spain they'll both do their utmost to score as many points as possible in an effort to put Vodafone McLaren Mercedes back at the top of both the drivers' and the constructors' world championship standings…"
Source: Vodafone McLaren Mercedes
Full Bahrain 2012 Race Results