Sebastian Vettel turned his first pole of the season to his first race win, and takes the lead of the F1 drivers' championship.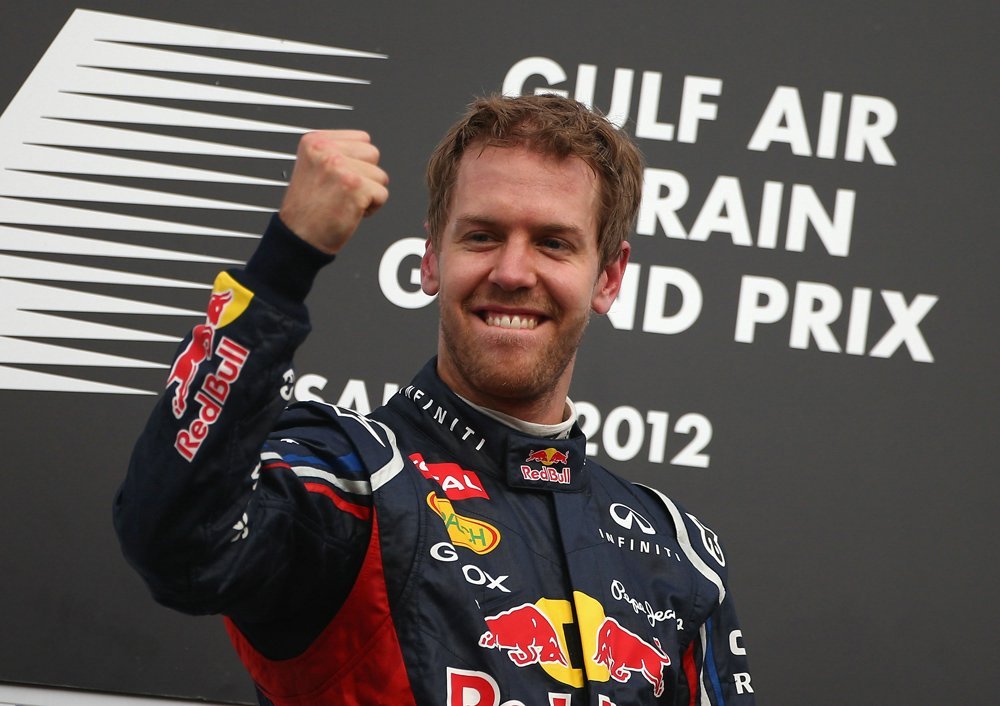 It was a great race for Red Bull Racing. After Vettel took pole position yesterday, Sebastian rarely had any challenge to his race lead all afternoon. The Red Bull car showed that it could master the hot track conditions in Bahrain, giving Vettel a less eventful afternoon albeit from one late challenge from Kimi Raikkonen.
Mark Webber on the other hand managed to take his fourth consecutive fourth place finish this season, and now sits in second position in the Driver's championship. Although he experienced a KERS problem – a regular occurring problem for Mark Webber it seems in Formula 1 – the Australian will be happy to finish fourth again despite starting in third. Red Bull also have the lead in the constructors' championship, making it a fantastic day for the team.
Sebastian Vettel:  "It was an incredible race, extremely tough. A good start was crucial and I was able to pull away from the pack, which was a big advantage as we always had to go on scrubbed tyres due to the fact we had used almost all of them in qualifying yesterday. Kimi was very quick and so was Grosjean. But everything seemed to work well today; strategy was good and I can only say a big thank you to the whole team and the guys in the garage. I said it yesterday, but they have done an incredible job over the last four races, the amount of work they had to do was so much… I was very happy with qualifying today and all throughout the race. Kimi was fast today and it was close, but I am extremely happy and very proud of the team."
Mark Webber:  "It wasn't a bad start. I didn't have KERS for the first lap, so it was difficult to put pressure on Lewis, but then I got it back. In the first two stints, I couldn't stay with those guys – the two Lotus' and Seb – so I had to consolidate from there. Lotus has a tidy car and when everything comes together, it works well – they did a good job today and it shows how tight the Championship is; there have been four different winners. I got some good points today and both drivers and Red Bull Racing are doing well in the Championships. It wasn't the most exciting race for me, but it's been a good start to the Championship. I'm looking forward to getting back to racing in Europe."
Christian Horner: "A great performance today. After a good get away from pole, Sebastian settled in to the race and had a very strong first stint. The challenge today, having been high on consumption of our tyres yesterday, was that we needed to get more out of them today. Seb did a masterful job of keeping the life in the tyres and making the three stop strategy work, we made the calls at the exactly the right time. It was great pit work today with some super stops and a tight race with Kimi, especially approaching the final stop – it was crucial to get that right. With a great performance from the pit crew, we actually managed to win a second in the pit lane. It was a great result with Mark as well. It's his fourth successive fourth place finish. Again, having used more tyres yesterday than some of our competitors, they were able to profit from fresher tyres being available, but he drove a good race to finish in P4 and gain vital points for him and the team and we now lead both Championships. Congratulations to Lotus on their very strong performance today and double podium finish, which also means that Renault engines finished one, two, three and four."
Source: Red Bull Racing
Full Bahrain 2012 Race Results