Toro Rosso were not one of today's most successful teams. Daniel Ricciardo had a great qualifying session yesterday, starting from sixth, but finished fifteenth.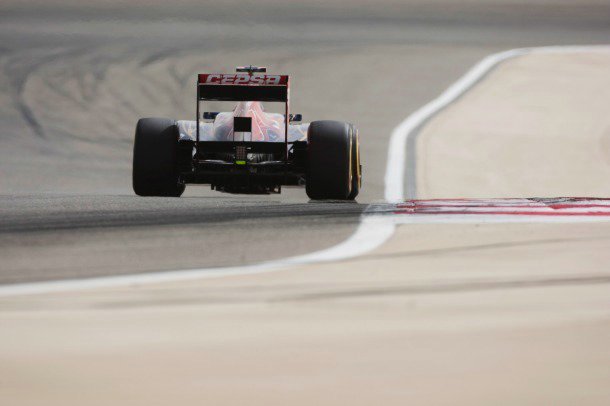 Jean-Eric Vergne finished fourteenth today, ahead of team mate Daniel Ricciardo, despite qualifying nineteenth to Daniel's sixth.
Ricciardo's poor transformation of a fast qualifying to a good finish was mainly the result of a collision with another car, resulting in a pit stop for a new nose early on in the race. He was unable to regain many places after that.
Jean-Eric Vergne meanwhile experienced a good race pace car, and is only disappointed in the performance he had during qualifying yesterday.
Jean-Eric Vergne: "It's the same pattern as in China, in that I manage to have a good pace in the race, but I'm slow in qualifying. We must find a solution to this, because if we can start further forward with the pace we have, then we should see a more positive result on Sunday. I gave it my all today, even though I started from far back. Now we have a bit of a break in terms of races, but we will have the test at Mugello where we must look carefully at what we can do, hoping to arrive in Barcelona with an even better car for the Spanish Grand Prix. As for myself, I need to analyse what is not working for me in qualifying. As a Frenchman, I have say I think it's great that Romain is on the podium and I am super happy for him. It would be nice if I can end up with a car as competitive as his and fight with him for a podium place!"
Daniel Ricciardo:  "That was not what I was hoping for after starting from sixth on the grid. The opening lap changed my whole race. My initial launch off the line wasn't great and after that I seemed to go backwards, which made for a very frustrating afternoon. The front wing damage also made matters worse. I had a good chance to have a strong race today, but losing all those places at the start cost me dear. I need to be hard on myself now and find out what I did wrong to make sure I don't do it again. It was a race to forget."
Franz Tost: "First of all, I want to thank His Royal Highness Prince Salman Bin Hamad Al Khalifa Crown Prince, the FIA, its President Jean Todt as well as Bernie Ecclestone and the organisers, especially their Chairman Zayed R. Alzayani for their work in ensuring this race took place. From our perspective, we encountered no problems, neither at the race track nor in Manama. On the race track today, we started with Daniel Ricciardo in sixth place on the grid, but failed to finish in the points. He had some problems at the start, losing several places and making contact with another car – at the moment we are not sure which one. This meant he had to come in for a new nose section and after that, his race was compromised as he lost too much time, eventually finishing fifteenth. Having started from seventeenth, after 57 laps, Jean-Eric finished one place ahead of his team-mate, having produced some acceptable lap times. Daniel's performance in qualifying was the only highlight in a weekend that did not live up to our expectations."
Source: Toro Rosso/Getty Images
Full Bahrain 2012 Race Results