After a little more than four weeks Formula 1 is back at the majestic 7 km long Spa-Francorchamps track.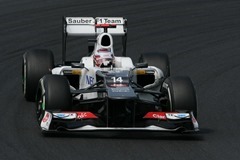 After the sunny day on Thursday the Belgian weather returned to normal and the rain came this morning making the first Belgian practice session an extremely wet one.
The Practice 1 end sees Felipe Massa stopping on track with a lot of smoke surrounding his F2012 suggesting an engine problem.
Kobayashi ends the practice in P1 ahead of Maldonado, Ricciardo and Vergne.
| Pos. | Drivers | Teams | Time | Laps |
| --- | --- | --- | --- | --- |
| 01. | Kamui Kobayashi | Sauber F1 | 2:11.389 | 20 |
| 02. | Pastor Maldonado | Williams F1 | 2:11.941 | 14 |
| 03. | Daniel Ricciardo | Scuderia Toro Rosso | 2:12.004 | 12 |
| 04. | Jean Eric Vergne | Scuderia Toro Rosso | 2:12.824 | 15 |
| 05. | Mark Webber | Red Bull Racing | 2:13.191 | 13 |
| 06. | Sergio Perez | Sauber F1 | 2:13.861 | 16 |
| 07. | Nico Rosberg | Mercedes AMG Petronas | 2:14.210 | 14 |
| 08. | Valtteri Bottas | Williams F1 | 2:14.660 | 16 |
| 09. | Sebastian Vettel | Red Bull Racing | 2:14.860 | 12 |
| 10. | Michael Schumacher | Mercedes AMG Petronas | 2:15.402 | 13 |
| 11. | Paul di Resta | Sahara Force India | 2:15.812 | 11 |
| 12. | Timo Glock | Marussia F1 | 2:16.409 | 16 |
| 13. | Nico Hulkenberg | Sahara Force India | 2:16.786 | 10 |
| 14. | Vitaly Petrov | Caterham F1 | 2:16.788 | 16 |
| 15. | Lewis Hamilton | Vodafone McLaren Mercedes | 2:16.827 | 5 |
| 16. | Jenson Button | Vodafone McLaren Mercedes | 2:16.861 | 8 |
| 17. | Charles Pic | Marussia F1 | 2:17.519 | 14 |
| 18. | Heikki Kovalainen | Caterham F1 | 2:18.199 | 10 |
| 19. | Pedro de la Rosa | HRT F1 Team | 2:19.546 | 12 |
| 20. | Dani Clos | HRT F1 Team | 2:19.689 | 12 |
| 21. | Romain Grosjean | Lotus F1 | 2:38.701 | 9 |
| 22. | Fernando Alonso | Scuderia Ferrari | 2:40.749 | 4 |
| 23. | Kimi Raikkonen | Lotus F1 | 2:46.580 | 9 |
| 24. | Felipe Massa | Scuderia Ferrari | no time | 2 |