Spa-Francorchamps track is the host of the Formula 1 Belgian Grand Prix this weekend.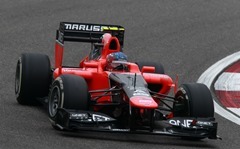 In the morning session Kamui Kobayashi was the fastest man on track and everyone was hopping for a dry practice session in the afternoon, but the Belgian weather disagreed and the rain kept on falling over the 7.004 km track at Spa.
With an ambient temperature of only 11 degrees and the track temperature of 12 degrees Celsius one can say that the conditions in Belgium were less than ideal for an Formula 1 practice session.
In the end 18 drivers went out on the track but only 10 of them set times, and thanks to this chain of events Charles Pic holds the Practice 2 P1 for Marussia.
| Pos. | Drivers | Teams | Time | Laps |
| --- | --- | --- | --- | --- |
| 01. | Charles Pic | Marussia F1 | 2:49.354 | 4 |
| 02. | Daniel Ricciardo | Scuderia Toro Rosso | 2:49.750 | 3 |
| 03. | Fernando Alonso | Scuderia Ferrari | 2:50.497 | 3 |
| 04. | Paul di Resta | Sahara Force India | 2:51.333 | 3 |
| 05. | Pastor Maldonado | Williams F1 | 2:51.660 | 4 |
| 06. | Timo Glock | Marussia F1 | 2:52.076 | 4 |
| 07. | Kamui Kobayashi | Sauber F1 | 2:53.232 | 4 |
| 08. | Jean Eric Vergne | Scuderia Toro Rosso | 2:58.232 | 3 |
| 09. | Nico Hulkenberg | Sahara Force India | 2:59.125 | 5 |
| 10. | Sergio Perez | Sauber F1 | 3:12.901 | 4 |
| 11. | Nico Rosberg | Mercedes AMG Petronas | no time | 3 |
| 12. | Michael Schumacher | Mercedes AMG Petronas | no time | 4 |
| 13. | Heikki Kovalainen | Caterham F1 Team | no time | 1 |
| 14. | Lewis Hamilton | Vodafone McLaren Mercedes | no time | 2 |
| 15. | Sebastian Vettel | Red Bull Racing | no time | 3 |
| 16. | Jenson Button | Vodafone McLaren Mercedes | no time | 2 |
| 17. | Felipe Massa | Scuderia Ferrari | no time | 2 |
| 18. | Bruno Senna | Williams F1 | no time | 3 |
| 19. | Mark Webber | Red Bull Racing | no time | 0 |
| 20. | Kimi Raikkonen | Lotus F1 Team | no time | 0 |
| 21. | Romain Grosjean | Lotus F1 Team | no time | 0 |
| 22. | Vitaly Petrov | Caterham F1 Team | no time | 0 |
| 23. | Pedro de la Rosa | HRT F1 Team | no time | 0 |
| 24. | Narain Karthikeyan | HRT F1 Team | no time | 0 |
Find us on Facebook and Twitter for all the latest updates for the F1 2012 season