After a wet Friday the F1 cars are finally able to get on the track for a dry running.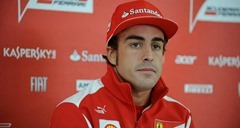 As the Sun shines over the track, Alonso is also shining with it while taking the P1 in the first dry practice session of the Belgian GP. Even with the Sun up in the sky some damp patches still linger on the track making drivers life a little more exiting.
In the Sunday race Mark Webber will take a 5 place grid penalty thanks to an unscheduled gearbox change.
Alonso was followed in the top positions by former Ferrari driver Kimi Raikkonen and the two Saubers.
| Pos. | Drivers | Teams | Time | Laps |
| --- | --- | --- | --- | --- |
| 01. | Fernando Alonso | Scuderia Ferrari | 1:48.542 | 18 |
| 02. | Kimi Raikkonen | Lotus F1 | 1:48.683 | 21 |
| 03. | Sergio Perez | Sauber F1 | 1:48.850 | 23 |
| 04. | Kamui Kobayashi | Sauber F1 | 1:48.863 | 20 |
| 05. | Jenson Button | Vodafone McLaren Mercedes | 1:49.091 | 18 |
| 06. | Felipe Massa | Scuderia Ferrari | 1:49.092 | 16 |
| 07. | Mark Webber | Red Bull Racing | 1:49.164 | 21 |
| 08. | Romain Grosjean | Lotus F1 | 1:49.266 | 23 |
| 09. | Sebastian Vettel | Red Bull Racing | 1:49.292 | 23 |
| 10. | Paul di Resta | Sahara Force India | 1:49.382 | 22 |
| 11. | Pastor Maldonado | Williams F1 | 1:49.561 | 23 |
| 12. | Lewis Hamilton | Vodafone McLaren Mercedes | 1:49.615 | 19 |
| 13. | Michael Schumacher | Mercedes AMG Petronas | 1:49.621 | 26 |
| 14. | Nico Hulkenberg | Sahara Force India | 1:49.674 | 23 |
| 15. | Jean Eric Vergne | Scuderia Toro Rosso | 1:49.710 | 21 |
| 16. | Daniel Ricciardo | Scuderia Toro Rosso | 1:49.776 | 22 |
| 17. | Bruno Senna | Williams F1 | 1:50.027 | 20 |
| 18. | Heikki Kovalainen | Caterham F1 Team | 1:52.339 | 21 |
| 19. | Charles Pic | Marussia F1 | 1:52.566 | 20 |
| 20. | Timo Glock | Marussia F1 | 1:52.630 | 18 |
| 21. | Vitaly Petrov | Caterham F1 Team | 1:52.809 | 22 |
| 22. | Pedro de la Rosa | HRT F1 Team | 1:53.383 | 22 |
| 23. | Narain Karthikeyan | HRT F1 Team | 1:53.562 | 23 |
| 24. | Nico Rosberg | Mercedes AMG Petronas | 1:58.113 | 5 |
Find us on Facebook and Twitter for all the latest updates for the F1 2012 season