Sebastian Vettel wins the Belgian Grand Prix for the second time ever and he made it look easy.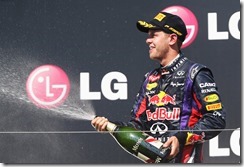 Mercedes' Lewis Hamilton started from pole for the fourth race in succession after coming through a thrilling wet-dry qualifying on Saturday. Red Bull's Sebastian Vettel started alongside him on row one while Mark Webber started third for Red Bull, with the second Mercedes of Nico Rosberg fourth.
Paul di Resta, who for much of Q3 had looked set for pole, is fifth, alongside McLaren's Jenson Button and the two Lotus cars and the two Ferraris completed the top ten.
In the end Vettel wins in style at Spa-Francorchamps, almost 17 seconds clear of the hard-charging Alonso, who comes from ninth on the grid to finish second while pole man Hamilton completes the podium in third, just ahead of Mercedes team mate Rosberg.
Belgian Grand Prix full race results:
| | | | | |
| --- | --- | --- | --- | --- |
| Pos. | Drivers | Teams | Time | Gap |
| 01. | Sebastian Vettel | Red Bull Racing | 1:52.603 | |
| 02. | Fernando Alonso | Scuderia Ferrari | 1:52.298 | 16.800 |
| 03. | Lewis Hamilton | Mercedes AMG Petronas | 1:52.375 | 27.700 |
| 04. | Nico Rosberg | Mercedes AMG Petronas | 1:51.960 | 29.800 |
| 05. | Mark Webber | Red Bull Racing | 1:53.810 | 33.800 |
| 06. | Romain Grosjean | Lotus F1 | 1:52.332 | 40.700 |
| 07. | Jenson Button | Vodafone McLaren Mercedes | 1:53.099 | 53.800 |
| 08. | Felipe Massa | Scuderia Ferrari | 1:52.942 | 55.800 |
| 09. | Adrian Sutil | Sahara Force India | 1:52.891 | 69.500 |
| 10. | Daniel Ricciardo | Scuderia Toro Rosso | 1:52.728 | 73.400 |
| 11. | Sergio Perez | Vodafone McLaren Mercedes | 1:54.114 | 81.900 |
| 12. | Jean-Eric Vergne | Scuderia Toro Rosso | 1:54.347 | 86.700 |
| 13. | Nico Hulkenberg | Sauber F1 Team | 1:53.575 | 88.200 |
| 14. | Esteban Gutiérrez | Sauber F1 Team | 1:52.717 | |
| 15. | Valtteri Bottas | Williams F1 Team | 1:54.364 | |
| 16. | Giedo van der Garde | Caterham F1 Team | 1:53.995 | 1 laps |
| 17. | Pastor Maldonado | Williams F1 Team | 1:55.668 | 1 laps |
| 18. | Jules Bianchi | Marussia F1 Team | 1:59.382 | 1 laps |
| 19. | Max Chilton | Marussia F1 Team | 1:57.978 | 2 laps |
| 20. | Paul di Resta | Sahara Force India | RETIRED | 18 laps |
| 21. | Kimi Raikkonen | Lotus F1 | RETIRED | 19 laps |
| 22. | Charles Pic | Caterham F1 Team | RETIRED | 36 laps |