Jules Bianchi feels he will be much better prepared for the start of the 2014 Formula 1 season given the progress he made in his rookie year.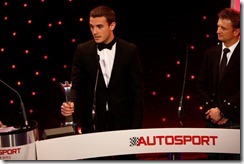 Bianchi secured the second seat at Marussia after the team had to terminate Luis Razia's contract just before the start of the season. The Frenchman went on to win Rookie of the Year honors at the 2013 AUTOSPORT Awards last weekend after helping Marussia secure 10th place in the standings for the first time.
Bianchi, who will race for the team again in 2014, believes he will immediately be much stronger from the start of 2014.
"I have got better and better all through the season," said Bianchi. "The start of the season was better compared to Caterham because I think the car was quicker, much quicker I think, but then they caught up and became much quicker than us, and at the end of the season I did my best races, like in Sao Paulo and Austin.
"Those races were much better than I did at the beginning of the season. So this is good for me, and good for my confidence now. I think I will be much more ready next year than I was this year."
Bianchi is also optimistic that the new rules coming into play next year will offer his team the chance to close the gap to its rivals.
"It is difficult to know what to expect because I did not drive the simulator, so I don't know what it will be like with the engine," he added. "For sure we will do a big step forward because we will start from zero again and now the team is a lot better than it was four years ago. So we will start a lot closer to the others and this will be really good for us."
Info: Racer.com, Image: Marussia