Jules Bianchi is staying at Marussia in 2014, the team announced on Thursday.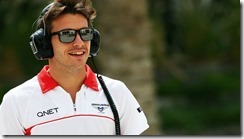 The Ferrari-backed Frenchman had been tipped for a move up the grid next year, perhaps to Ferrari-powered Sauber. But Marussia team boss John Booth said in a media statement that keeping Bianchi, 24, on board for 2014 is a "great pleasure". "He rose to the challenge of his debut season exceptionally well and since that time has clearly demonstrated his ability and potential," said Booth.
Currently powered by departing supplier Cosworth, Marussia is switching to customer Ferrari engines in 2014. Bianchi's current teammate is the well-backed Briton Max Chilton. "We look forward to confirming our full race driver lineup later in the season," said Booth. Although backed by the Ferrari rival McLaren, it is believed Kevin Magnussen is among those in the running to be Bianchi's teammate next year.
The F1 career of Magnussen's father, Jan, was short-lived, but McLaren team boss Martin Whitmarsh told El Confidencial: "We will make sure the same thing doesn't happen to Kevin." Magnussen, 20, is closing in on the 2013 Formula Renault 3.5 title, with Whitmarsh adding: "He has a steely character and is more determined than his father."
But before Marussia turns its full attention to Bianchi's 2014 teammate, it is more focused on securing the lucrative tenth place in the constructors' championship — particularly after The Times reported that the team has finally penned a financial agreement with Bernie Ecclestone. It has also emerged that investor Andrei Cheglakov plans to clear Marussia's more than $200 million in debt. "Our investors have met with some incredulity at the way F1 costs are run," said chief executive Andy Webb. "They were not expecting to enter a spending competition but they have put us on a solid footing and we are secure for the future."
However, F1 chief executive Bernie Ecclestone said recently that two or three teams are in danger of dropping off the grid. "It's hard to say exactly what teams Bernie had in mind," Webb told Russia's Championat, "but we are determined to move forward."
Info: GMM, Image: Marussia