It is not official yet, but considering how this season is unfolding the signs that the young Finn will have a permanent driver role with Williams F1 next year are pretty strong.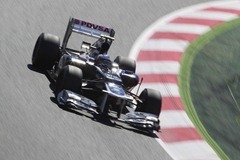 During the 2012 season Bottas has 15 Friday practice runs into Bruno Senna's car and he's also managed by the Williams investor Toto Wolff who recently got a nice contract for his wife Susie Wolff with Williams too. This week Williams F1 announced a new partnership with two major Finnish companies.
The companies in question are Wihuri and Kempi. Wihuri is a business enterprise that has backed up Bottas since 2006 while Kempi is a welding manufacturer that has been sponsoring the young driver since 2008.
In a press release Sir Frank Williams said: "We are delighted to welcome Wihuri to our portfolio of partners, They have provided considerable support to Valtteri in his career thus far and to partner with a company that shares a family structure and strong heritage is greatly satisfying. We are all looking forward to working with them in the future."

Bottas driver role in 2013 would not be all about funding because if we are to look at the practice sessions times he already out-performed Maldonado in two out of four sessions they've shared.
The fact that Bottas has demonstrated better pace on several occasions this season despite his relative lack of experience with the car bodes well for his future with the Williams team.  Presuming that Bottas gets the widely expected promotion – Bruno Senna is on a one-year contract with Williams this season – it will be the first time since the 1994 Japanese Grand Prix that three Finnish drivers have lined up on the Formula One grid.
Info: GP Week, Image: Williams F1/LAT