Mercedes' German-speaking faction has spoken out against the team orders that prevented Nico Rosberg from finishing on the podium in Malaysia.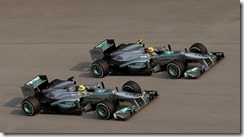 German Rosberg asked and asked again to be let past his new British teammate Lewis Hamilton on Sunday, who was saving fuel to the finish as he ran in third place. Team boss Ross Brawn answered repeatedly: "Negative." Afterwards – but before Hamilton admitted on the podium that he was uncomfortable about finishing third – Rosberg told strategist Brawn on the radio to "Remember this one."
It was a saga not unnoticed by Mercedes' newly-arrived Austrian shareholders and bosses Niki Lauda and Toto Wolff, who were not amused. "From a sporting perspective, that was wrong," Lauda told German television RTL. "They should have let him (Rosberg) go. "We need to talk to Ross, if this is the strategy to be used from now on," he added.
Wolff agreed: "From a sporting point of view, that's not what we want to see." Brawn, whose role as team boss is believed threatened by the Austrian duo and also the likely arrival of McLaren's Paddy Lowe, is understood to have defended the 'team order' on the basis that Rosberg was also low on fuel. Rosberg denied: "I did not have to save fuel. Everything was alright. "I will sit down together with Ross to rethink whether this was really the right decision."
The 27-year-old's rationale is that, with tyres in good shape and fuel in the tank, he might have been able to chase down the leading Red Bulls. According to Auto Motor und Sport, 1996 world champion Damon Hill agreed: "He might at least have been able to hurry the Red Bulls into a tyre problem."
Rosberg added: "I don't know if I would have gotten the Red Bulls. But I felt good at the time. "I was doing well and would have liked to see how far I could have gone." Justifying his anger on the radio, he explained: "I tried to get them to reconsider their decision."
But Rosberg denied Red Bull figure Dr Helmut Marko's claim that the episode demonstrates that Lewis Hamilton is Mercedes' obvious "number 1" driver. "I can understand how this (episode) creates that impression," Rosberg responded, "but I am sure that if I had been in front, the decision would have been the same."
Info: GMM, Image: Mercedes GP