Welcome to England. Round 9 of the Formula 1 Championship started with a wet P1 and is more than likely to go on like this for P2.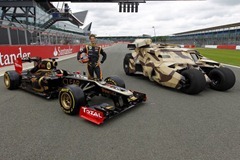 Romain Grosjean from Lotus F1 Team and his Black Knight car made the fastest lap when the rain had a little less intensity, while Force India drivers remain in the garage for almost all of the session as it did the F1 championship leader  Fernando Alonso for Ferrari.
The local hero Lewis Hamilton managed the third best time while putting only 6 laps in his McLaren while Kamui Kobayashi was the most prolific driver out there with no less than 19 laps.
| Pos. | Drivers | Teams | Time | Laps |
| --- | --- | --- | --- | --- |
| 01. | Romain Grosjean | Lotus F1 | 1:56.552 | 13 |
| 02. | Daniel Ricciardo | Scuderia Toro Rosso | 1:56.827 | 10 |
| 03. | Lewis Hamilton | Vodafone McLaren Mercedes | 1:57.174 | 6 |
| 04. | Sergio Perez | Sauber F1 | 1:57.664 | 11 |
| 05. | Felipe Massa | Scuderia Ferrari | 1:58.119 | 7 |
| 06. | Mark Webber | Red Bull | 1:58.463 | 7 |
| 07. | Kamui Kobayashi | Sauber F1 | 1:58.483 | 19 |
| 08. | Michael Schumacher | Mercedes AMG Petronas | 1:58.493 | 10 |
| 09. | Nico Rosberg | Mercedes AMG Petronas | 1:58.942 | 8 |
| 10. | Jean Eric Vergne | Scuderia Toro Rosso | 1:59.076 | 12 |
| 11. | Sebastian Vettel | Red Bull | 1:59.414 | 11 |
| 12. | Vitaly Petrov | Caterham F1 Team | 1:59.614 | 9 |
| 13. | Valteri Bottas | Williams F1 | 1:59.733 | 7 |
| 14. | Heikki Kovalainen | Caterham F1 Team | 1:59.787 | 10 |
| 15. | Pastor Maldonado | Williams F1 | 2:00.125 | 5 |
| 16. | Kimi Raikkonen | Lotus F1 | 2:00.253 | 6 |
| 17. | Jenson Button | Vodafone McLaren Mercedes | 2:01.834 | 6 |
| 18. | Timo Glock | Marussia F1 | 2:01.835 | 6 |
| 19. | Pedro de la Rosa | HRT F1 Team | 2:04.341 | 9 |
| 20. | Dani Clos | HRT F1 Team | 2:05.022 | 11 |
| 21. | Charles Pic | Marussia F1 | 2:11.760 | 6 |
| 22. | Fernando Alonso | Scuderia Ferrari | no time | 4 |
| 23. | Paul di Resta | Sahara Force India | no time | 3 |
| 24. | Jules Bianchi | Sahara Force India | no time | 1 |