As the pit-lane opens for the second free practice no cars made any attempt to get on the track.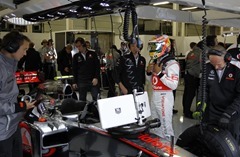 While most of the drivers were relaxing in the back of the garages Fernando Alonso who did not set a time in free practice one installed his Ferrari and he was followed shortly by Kimi Raikkonen. During the session Bruno Senna lost it and completely destroyed his Williams  also causing a red flag. The end of the session finds Kamui again at the top of the number of laps while Fernando goes of the track to brake his front wing just  before the pit entry.
Lewis Hamilton showed great pace again and after making only 8 laps he score the best time of the session 1.56.435.
| Pos. | Drivers | Teams | Time | Laps |
| --- | --- | --- | --- | --- |
| 01. | Lewis Hamilton | Vodafone McLaren Mercedes | 1:56.345 | 8 |
| 02. | Kamui Kobayashi | Sauber F1 | 1:56.474 | 16 |
| 03. | Michael Schumacher | Mercedes AMG Petronas | 1:56.545 | 12 |
| 04. | Nico Rosberg | Mercedes AMG Petronas | 1:56.567 | 9 |
| 05. | Sergio Perez | Sauber F1 | 1:57.493 | 13 |
| 06. | Jenson Button | Vodafone McLaren Mercedes | 1:57.948 | 9 |
| 07. | Heikki Kovalainen | Caterham F1 Team | 1:58.580 | 10 |
| 08. | Kimi Raikkonen | Lotus F1 | 1:58.897 | 8 |
| 09. | Nico Hulkenberg | Sahara Force India | 1:58.943 | 12 |
| 10. | Fernando Alonso | Scuderia Ferrari | 1:59.015 | 14 |
| 11. | Paul di Resta | Sahara Force India | 1:59.429 | 9 |
| 12. | Pastor Maldonado | Williams F1 | 1:59.472 | 6 |
| 13. | Sebastian Vettel | Red Bull | 1:59.476 | 10 |
| 14. | Jean Eric Vergne | Scuderia Toro Rosso | 1:59.854 | 7 |
| 15. | Felipe Massa | Scuderia Ferrari | 2:00.565 | 7 |
| 16. | Timo Glock | Marussia F1 | 2:00.820 | 11 |
| 17. | Bruno Senna | Williams F1 | 2:01.099 | 6 |
| 18. | Vitaly Petrov | Caterham F1 Team | 2:01.348 | 12 |
| 19. | Charles Pic | Marussia F1 | 2:03.719 | 8 |
| 20. | Narain Karthikeyan | HRT F1 Team | 2:04.774 | 8 |
| 21. | Romain Grosjean | Lotus F1 | no time | 1 |
| 22. | Daniel Ricciardo | Scuderia Toro Rosso | no time | 2 |
| 23. | Mark Webber | Red Bull | no time | 1 |
| 24. | Pedro de la Rosa | HRT F1 Team | no time | 0 |
Find us on Facebook and Twitter for all the latest updates for the F1 2012 season