Changes are afoot at Caterham, mere days after the team's takeover by mysterious investors.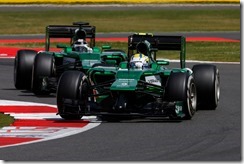 "We're not even a week into this new chapter in the team's life," said new boss Christijan Albers, "but we've already seen just how hard everyone at the track and at the factory is prepared to work to push us forwards." The departure of boss Cyril Abiteboul and the arrival of Albers, Colin Kolles and Manfredi Ravetto aside, it was business as usual at Silverstone as the green team continued to struggle at the back of the grid. Some other changes are also visible. On the green livery, Tony Fernandes-linked sponsors like Airbus were still there at Silverstone, but now conspicuously absent are the 'GE' logos of General Electric.
Finland's Turun Sanomat newspaper claims Caterham will lose more Fernandes-era sponsors in the coming days and weeks. Driver rumours have also begun. Alongside the Red Bull teams, Caterham will be the only other Renault-powered team in 2015. So it is rumoured that the Red Bull-backed Carlos Sainz jr is a candidate to move in at Leafield.
Also linked with Caterham in the past few days has been Robin Frijns, who like new team boss Albers is Dutch. For now, Kamui Kobayashi and Marcus Ericsson are safe. "Both have contracts," said Ravetto. "They are doing their best with what they have. The weak results are not their fault."
Turun Sanomat, however, claims team 'advisor' Kolles intends at least to open up another revenue stream for Caterham by selling as many Friday morning practice cockpits to well-backed drivers as possible. And the report said Kolles also intends to shrink Caterham's 400-strong workforce. "We have had four days to try to understand the reasons why the team is behind," Ravetto continued. "We will try to get the most out of this season and make sure we're in a position to be further up on the grid next year," he added. "We will study the areas in which the team needs new blood."
Image: Caterham