I think that anyone can agree that Ferrari is the team that has made the most significant progress since the start of the championship.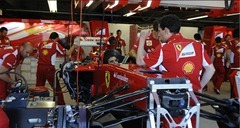 Best Saturday of the year for Scuderia Ferrari, with one driver on the second row and the other on the third after qualifying for the Canadian Grand Prix.
The Pirelli tyre useage for the two Maranello drivers was almost identical: Soft in Q1, Soft and Supersoft in Q2 and two sets of Supersoft in Q3.
Pat Fry: "It's a good result for the team, on a track that, on paper, did not look like suiting the characteristics of our car. All the same, we proved to be competitive, even if it's what happens tomorrow in the race that counts. We are working very hard on developing the F2012 and we can now see tangible signs of progress. That is down to all our people, from those in the wind tunnel to those who manufacture the parts to ever tighter deadlines, without forgetting all the other departments and I wish to thank them all for their efforts. We must continue down this route, because while we have managed to close a good part of the gap which separates us from the best, it's also true that we're not yet on top. We have various updates here and the majority of them have lived up to our expectations and this too is a positive sign. Tomorrow's race will be very unpredictable, as indeed has been the case so far in this championship.

In Montreal, the Safety Car usually plays its part and we must be ready to tackle every eventuality. There is the unknown factor relating to tyres: today we have seen how the situation changes depending on the temperature, which was decidedly higher than yesterday. It will have a major influence on strategy also because, unlike Monaco, you certainly can't expect to keep faster cars behind you in the closing stages of the race."

Fernando Alonso:  "I am happy with the way things have gone so far this weekend, especially because the car has proved to be competitive, even on a track which certainly does not suit its characteristics. That is mainly down to the updates we have brought here, which have worked as we expected, which makes me confident for the rest of the season too. I well remember where we were in Australia and if today we are in the fight for pole, it signifies that we have done a good job over the past few months, especially as the others have not exactly been twiddling their thumbs. I am also pleased for Felipe, who is confirming the progress we already saw in recent races: at the start of the championship he was definitely unlucky, but we have always stayed united and now the results are coming, as indeed they should for a driver of his talent. Having said all that, we must not forget that today there are two drivers who were quicker than us, therefore there is still some ground to make up in performance terms, although finally we seem to be able to fight on level terms with the best.

It was a rather stressful qualifying because here the times are always very close and it only takes a few tenths of a difference to be in front or down the back. Third on the starting grid is a good position from which to attack in the race, especially  as pole is not so important here as elsewhere. Tyre degradation will be one of the key factors on Sunday, given the temperatures will be very different to what we saw yesterday afternoon. Races here are always unpredictable, but for sure it would be very nice to give all the Canadian Ferrari fans a nice result in the thirtieth anniversary year of the death of Gilles Villeneuve. Italy-Spain in the European football? We haven't spoken about it yet with the team but, if we win, then maybe I might find there are not too many people on hand to change my tyres at the pit stop….! 🙂"

Felipe Massa: "I am pleased with the progress made this weekend: starting from sixth is a positive result. However, I can't be happy with my last lap in Q3: in the second sector, I lost the rear end and that cost me a few tenths and that quite probably meant a few places on the grid. I'm very disappointed because I had the potential to do better than this sixth place. All things considered, I remain confident, because the whole team is moving forward which is very important for the rest of the season. Tomorrow,  we will have to pay great attention when it comes to defining our strategy. I think the choice is restricted to just a one or a two stop, but a lot depends on tyre behaviour. We hope to make up some places and bring home a good result. On my helmet I have the name Gilles Villeneuve as a tribute to the memory of a driver who was part of Ferrari history: I am very proud of being able to pay homage to him in the year that marks the thirtieth anniversary of his death. Even if I was only just born when the accident happened, I have always been a big fan of his."
Source: Ferrari