Caterham's change of ownership this week also caught its race drivers by surprise.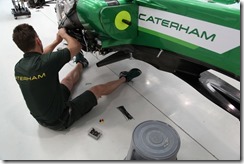 "It was as much news to me as it was for everyone else," Swedish rookie Marcus Ericsson said at Silverstone on Thursday. Swiftly after founder Tony Fernandes admitted his F1 project "hasn't worked", it emerged Caterham has been sold to an unnamed Swiss-Middle Eastern consortium.
Former HRT chiefs Colin Kolles and Manfredi Ravetto, and ex-Minardi driver Christijan Albers, are now in charge. When asked about Caterham's surprise new future, team driver Kamui Kobayashi said at Silverstone: "I really didn't speak with them (the new management) about it yesterday. "I think next week we will have more time, so let's see. I will drive for this year, sure," said the Japanese.
Oddly, the green-coloured turmoil is actually good news for Ericsson and Kobayashi, as just a few weeks ago it was being rumoured Caterham would be shut down long before the end of the 2014 season. "I really appreciate that we can still continue to race," Kobayashi admitted, "and I think our target is clear that we need to push to get back the championship position. "We need to focus, and I think the last few months we were struggling with the budget, but now it seems we can use a bit more budget, so let's see what we can do."
With traditional rival Marussia breaking through recently for its first ever points, Caterham risks losing access to the lucrative prize money allocated by F1 supremo Bernie Ecclestone. "We have nothing to lose, this is simple," Kobayashi agreed. "The new boss is aggressive but I think this is what we need to do."
Image: Caterham F1 Team