Circuit of The Americas announced the addition of rock band Collective Soul and country musician Clay Walker to its entertainment line-up during the Formula 1 United States Grand Prix, set for Nov. 16-18.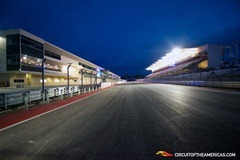 Collective Soul will be performing at the circuit on Saturday, with Clay Walker will perform on Sunday.
"We are thrilled to add musicians of this caliber to our weekend of events at the track during F1 weekend," said Paul Thornton of entertainment promoter TAG Presents. "Austin is the live music capital of the world, so it was important to the circuit to incorporate live music as part of the fan experience. These artists are an ideal addition to what is expected to be a weekend filled with incredible entertainment."
Concerts will occur at Circuit of The Americas following the day's on-track racing activities and will be included as part of the race fans' experience. Collective Soul is set to begin at 4:30 p.m. on Saturday, and Clay Walker will perform at 3:15 p.m. on Sunday. Additional track entertainment will include multiple stages around various points on the track, where local Austin bands will perform during the day on Saturday and Sunday, as well as a duelling piano bar located in the Grand Plaza.
Various stages scattered around the Circuit will include local artists performing throughout race weekend. These artists include Dame & Sahara Smith, La Guerrilla, Frontier Brothers, Uncle Lucius, and DJ QD. Details about these acts will be forthcoming.
Info: Racer.com, Image: Circuit of the Americas
Find us on Facebook and Twitter for all the latest updates for the F1 2012 season