Daniel Ricciardo and Kimi Raikkonen are both "good options" as Red Bull looks to replace the departing Mark Webber for 2014.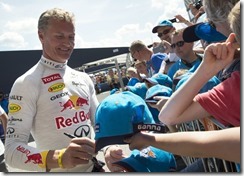 That is the view of former F1 driver David Coulthard, who thinks reports Fernando Alonso is yet another option for the world champion team are wide of the mark. "His manager did what any good manager should do — talk with all of the teams," the Scot, a Red Bull consultant, told the Dutch magazine Formule 1. "Fernando is undoubtedly frustrated that he is not winning as often as someone of his ability would expect. "But Ferrari is a top team and they will undoubtedly go back to winning grands prix," Coulthard added.
Much more likely is that Red Bull is simply weighing up between the genuinely available Finn Raikkonen, and the best Red Bull-backed junior, Daniel Ricciardo.
Coulthard, a former teammate of the 2007 world champion, said: "With Kimi, you know what you are getting. His track record speaks for itself."
But he also thinks Ricciardo, 23, would be a good choice. "When Sebastian Vettel joined Red Bull," said Coulthard, "he had won only one race. But there is no doubt that he deserved the chance. "Daniel Ricciardo has also shown that talent. Red Bull also knows him well, and he would represent the brand very well," he added. "It's not my decision," said Coulthard, "but if I had to decide, I would do as anyone would do — look at all the data from all the angles and make a judgement based on the overall picture."
Info: GMM, Image: Red Bull