Daniel Ricciardo has added to Romain Grosjean's woes by admitting he called the beleaguered Lotus driver "an idiot" in Monaco.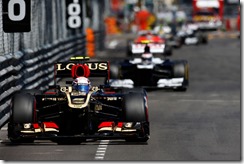 Frenchman Grosjean, last year branded the 'first lap nutcase' by Mark Webber after a spate of incidents culminating in a race ban, ended Ricciardo's Monaco race with a rear-end collision last Sunday. The crash has cost him ten places on the Montreal grid, and renewed reports his place in F1 might be in doubt.
Australian Ricciardo admits the incident angered him. "You want to blow off steam," he said, "but by that point I really couldn't be bothered shouting and screaming at Grosjean. "It was a disappointing end to a deeply unsatisfying weekend and I didn't want to waste the energy yelling 'screw you, what the hell were you thinking?' "I just said 'you're an idiot', and that was it," said Ricciardo, 23.
When contemplating Ricciardo, many think first of the Perth-born driver's always-present smile, but 1980 world champion Alan Jones recently said the grin belies a killer instinct. "Every person has two sides," Ricciardo told Russia's f1news.ru. "I smile most of the time, but when I put on my helmet, no one sees it anymore."
Should Red Bull not renew Mark Webber's contract, and Kimi Raikkonen decides to stay at Lotus, it is believed Ricciardo is first in line for the seat alongside Sebastian Vettel net year. "To be honest, I find this topic a little boring now," Ricciardo said. "I've heard it a lot over the years. "When I first became Red Bull's reserve in 2010, people were saying 'maybe Mark will finish this year and you'll replace him'. "It's not like me to say nothing, but honestly I don't know what to say," Ricciardo continued. "I have no idea what his (Webber's) plans are. And what the team's plans are. "It doesn't affect me: I have to try to perform, no matter who I'm trying to impress. Everything else is just talk."
Info: GMM, Image: Lotus