Red Bull's Dr Helmut Marko has tipped Mercedes to bet everything on Lewis Hamilton taking a shot at the 2013 world championship.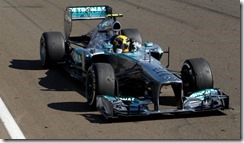 On the face of it, the German squad does not have a number 1 driver, but with less than half the season left to go, and arguably now the fastest car, the last-start winner is Lewis Hamilton.
The Briton's deficit to title leader Sebastian Vettel, however, is 48 points. Marko told Auto Bild: "We are taking Mercedes very seriously. "Last year we were 44 points behind Alonso after the summer break, and yet we were world champion in the end. That's how fast things can change. "Now is their chance and they will put everything on Hamilton," Marko predicted.
But a bold statement like that, particularly from the outspoken arch-enemy, might be seen as a mere attempt to unsettle Mercedes, with Hamilton's teammate Nico Rosberg having won two grands prix so far this season. It is understandable that the German team is playing down its chances.
Asked if Mercedes can win the 2013 title, chairman Niki Lauda answered plainly: "No. "Red Bull are still stronger overall," he told Auto Motor und Sport, "and they have this point advantage. "On paper we have a chance, but in reality it is very difficult," Lauda insisted. For now, then, there is no talk of team orders. "We have a clear situation: everything stays open unless it gets really serious," said Lauda. Tellingly, however, Lauda admitted that Mercedes is still pushing ahead with development of the 2013 car, even with the huge challenge of 2014 now looming large. "With every race we are taking the car forwards," he said, "but the next three races will be decisive. "Eventually, we will also need to think about where we are putting our resources. We try to postpone it as long as possible, but at some point, the time will have come."
He admitted the key to unlocking the W04's winning potential has been understanding the Pirelli tyres. "We know more, but not everything. I would say we are at about 70 per cent," said Lauda. "At the beginning of the season we understood nothing."
Info: GMM, Image: Mercedes GP