FIA has confirmed the DRS zone for the Malaysian GP, this is going to be on the main strait line.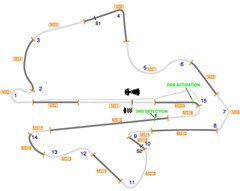 If in the first race of the season the drivers had two DRS zones available to try and overtake in Malaysia the situation will be different. The Sepang International Circuit has two long straits but the ruling body of FIA has decided to allow the use of the DRS only on  the main strait. Therefore the drivers may use the DRS system only on  the 800m long line.
The detection and activation points remain unchanged in relation with their position from last year. The detection point is placed at the end of the back strait just before the turn 15 on the same spot where the speed trap is also placed. The activation of the system as you can see in the picture is placed at the exit of the turn 15 so the cars with better traction would benefit from it while the others will suffer.