The FIA has confirmed that the sole DRS zone at Valencia for this weekend's race will be located on the back stretch, beginning after the iconic swing bridge. The second zone towards Turn 17 hairpin has been removed.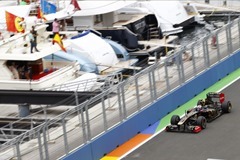 The DRS will be available from Lap 3 after the start or a restart through the left-handed Turn 11. However, we can expect a lot of action in Turn 12 this season. The overtaking opportunities have been reduced in this turn.
The DRS system is an effort to assist overtaking during the course of a race. Drivers now have the ability to move the rear wing in certain situations when they're close enough to a car in front. This permits a temporary adjustment to the amount of down force provided by one of the wings on the rear of the car. The DRS system goes back to its normal position when the driver touches the brakes.
There are a couple of limitations regarding the use of DRS. First; the DRS can be used during the qualifying stages at any time. During the race, the system may only be used on specific sections of the track and only by a car that is within one second of the car in front. This rule is in order to facilitate overtaking. Further, the driver won't be able to use the system until another designated point on the track around 600 meters before the next corner.
DRS doesn't guarantee overtaking. It is just an additional tool to assist with passing. The driver still has to execute the move on track. The system is controlled electronically, so the drivers have only limited access to it, and can only use it in the permitted situations.
Info: gpnow.com, Image: Lotus F1 Team / LAT Photographic