Gerhard Berger thinks Sebastian Vettel is the best driver on the grid today, while Bernie Ecclestone says the German might be F1's all-time great.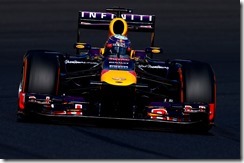 If Fernando Alonso fails to finish either first or second in India on Sunday, Red Bull's Vettel will be guaranteed his fourth consecutive drivers' title. Bild newspaper said the 26-year-old will scoop a EUR 5 million title-winning bonus, while each Red Bull employee will go home with an extra EUR 12,500 in their regular pay.
Berger, who was the team boss at Toro Rosso when Vettel won his first ever grand prix in 2008, thinks the German is now the class of the field. "I have always put Vettel behind Alonso," he told APA news agency, "but I think at the moment Alonso is focused too much on himself, becoming unstable. "So while he is occupied with himself, Vettel gets one title after the next," added former Ferrari and McLaren driver Berger. "I think Vettel is clearly the best driver in formula one now."
Michael Schumacher agrees that Alonso has done himself no favours recently. "He put himself on a path of stones," the seven time world champion told Bild newspaper, without elaborating. "Things have happened that were not constructive," the former Ferrari driver added, still referring to Alonso.
Red Bull team boss Christian Horner would not disagree, saying the fate of Vettel's teammate Mark Webber over the past few years proves Vettel's class. "Mark Webber is a very good driver," he is quoted by Spox. "Before Vettel came into the team, his (Webber's) reputation was as a future champion. But this year in qualifying, Sebastian Vettel has beaten Mark 14 times and won nine times. "If it was all about the car, we would be first and second in the drivers' championship, but we are not," Horner insisted. "For me, he is now on par with Juan Manuel Fangio, Jim Clark, Jackie Stewart, Ayrton Senna, Alain Prost and Michael Schumacher," Horner added.
F1 chief executive Ecclestone thinks Vettel is even better than that. "People don't know how many titles Senna would have won," he told Bloomberg, "but Vettel is probably the best we've had." Ecclestone admitted Vettel's dominance has hurt TV ratings slightly. "People complain about him winning everything," he said, "but the racing is good. "It's a bit like with Roger Federer or Muhammad Ali," he explained. "Vettel is the best there is and people want to be there when he gets beat."
Vettel, however, has not been a universally popular figure this year, but Schumacher thinks that is more Red Bull's fault than his. "If you win with a traditional team, a brand full of emotion and history, that is the ultimate. "And that would certainly change one or two things in his (Vettel's) situation," said the great German. "Whether he would have had the same successes with Ferrari," Schumacher acknowledged, "is a different sheet of paper."
Info: GMM, Image: Red Bull Content Pool